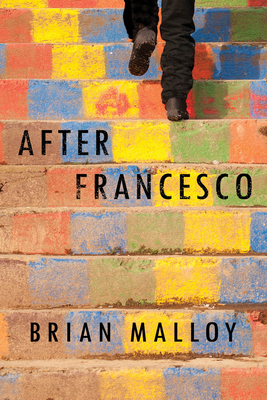 After Francesco
Hardcover

* Individual store prices may vary.
Description
Acclaimed author Brian Malloy brings insight, humor, and the authenticity of his own experiences as a member of the AIDS generation to this universal story of love and loss set in New York City and Minneapolis at the peak of the AIDS crisis. Published on the 40th anniversary of the disease's first reported cases, After Francesco is both a tribute to a generation lost to the pandemic as well as a powerful exploration of heartbreak, recovery and how love can defy grief.

The year is 1988 and 28-year-old Kevin Doyle is bone-tired of attending funerals. It's been two years since his partner Francesco died from AIDS, an epidemic ravaging New York City and going largely ignored by a government that expects those affected to suffer in silence, thrusting unjustifiable shame and guilt on top of their loss.

Some people might insist that Francesco and the other friends he's lost to the disease are in a better place now, but Kevin definitely isn't. Half-alive, he spends his days in a mind-numbing job and nights with the ghost of Francesco, drunk and full of memories of the life of a man who was too young to die.

When Kevin hits an all-time low, he realizes it's time to move back home to Minnesota and figure out how to start living again--without Francesco. With the help of a surviving partners support group and old and new friends, Kevin slowly starts to do just that. But an unthinkable family betrayal, and the news that his best friend is fighting for his life in New York, will force a reckoning and a defining choice.
Praise For After Francesco…
Advance praise for Brian Malloy and After Francesco
 
"With characters who are flawed and funny, courageous and fearful, Brian Malloy tells a story that could serve as a guidebook on how to love, how to fight for those we love, and how to honor those we've lost without losing ourselves. Beautifully written and infused with a sly humor, After Francesco is a love letter to life."
—Lorna Landvik, author of Angry Housewives Eating Bon Bons

"Heart-breaking, gut-wrenching, yet somehow also sweet and funny, After Francesco is a must-read for those who survived the AIDS epidemic, those who merely witnessed it, and those who never knew about it but need to know now. Brian Malloy has crafted a universal tale of grief and resilience."
—Bonnie Kistler, author of House on Fire
 
"Furious, funny, and beautiful, After Francesco immerses the reader in the crisis of the AIDS epidemic in 1980s in New York. Brian Malloy has created a cast of characters so memorable—so vividly witty and aggrieved and brave and bewildered—you'll never want to put this novel down."
—Julie Schumacher, author of Dear Committee Members
 
"This is a character I trust completely as a reader, a character who accesses sharp gallows humor as readily as tears, a character both insecure and brave, a character who effortlessly evokes the 1980s East Village he loves but despises. This book centers around a convincing love story, something uncommon enough, but more than that it's a book about the strength of friendships that are forged in the face of so many enemies and threats. Honest, sarcastic, bighearted—you'll wish it didn't have to end."
—John Brandon, author of Further Joy

Praise for Brian Malloy:

"A tribute to Malloy's skill."
—The New York Times on THE YEAR OF ICE

"The Year of Ice is a grabber from the get-go. . . . Family dysfunction, honor, and honesty are all major themes, filtered through the limitation's of a teenager's mind-set and handled with deft humor."
—The Minneapolis Star Tribune

"Malloy masterfully blends the page turning plot and brooding atmosphere of neo-noir with an affecting sensitivity to the stuggle for human connection."
—Out on BRENDAN WOLF
A John Scognamiglio Book, 9781496733511, 304pp.
Publication Date: May 25, 2021
About the Author
Brian Malloy is the activist and award-winning author of After Francesco,The Year of Ice, Brendan Wolf, and Twelve Long Months. The recipient of an ALA Alex Award and the Minnesota Book Award, his novels have been shortlisted for The Violet Quill Award and the Ferro-Grumley Award for LGBT fiction. As an early employee of the Minnesota AIDS Project, Malloy helped organize the state's first AIDS Walk in 1988 and has remained an engaged member of the community. He received his MFA from the University of Minnesota and currently teaches creative writing in Minneapolis. Visit him at MalloyWriter.com.
1. After Francesco opens with a quote from Vito Russo, a gay film historian and author who died of AIDS in 1990. What meaning do you take from Russo's statement that AIDS is "like living through a war which is happening only for those people who happen to be in the trenches"?
2. Have you experienced the death of one or more people that you loved deeply? How did the immediate impact of their loss feel different from the longer-term impact?
3. Many of the events depicted in After Francesco are real. Were you familiar with ACT UP's actions at the F.D.A and Trump Tower, the first Minnesota AIDS Walk, or the Tompkins Square Park riot? Did you prefer ACT UP's civil disobedience or the AIDS Walk in terms of how best to address the AIDS crisis?
4. Francesco's sister-in-law defends her fabricated memoir by claiming it's doing good by raising AIDS awareness and changing hearts and minds. Do you agree? Why do you think she wrote the book?
5. What role does religion play in After Francesco? Do Aunt Nora, Father Michael, and Kevin share any common ground when it comes to faith?
6. In 2018, New York Times writer Kurt Soller addressed the newspaper's AIDS coverage: "Information about the spread of illness was often scant, judgmental or distressingly vague… often buried in the back of the newspaper, far from national news stories that were deemed important enough for the front page." Did the media's failure to cover the crisis contribute to the spread of HIV?
7. There are two depictions of assisted dying (also called assisted suicide) in After Francesco. Assisted dying is now legal and regulated in Oregon and Washington. Should assisted dying be expanded to the rest of the country? Why or why not?
8. Kevin comes to think of his grief as a selfish kind of grief, one that he had to stop hoarding like food during a blight. Did you find his grief selfish? Why or why not?