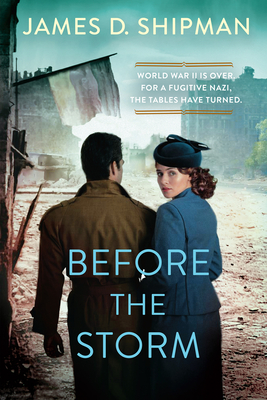 Before the Storm
A Thrilling Historical Novel of Real Life Nazi Hunters
Paperback

* Individual store prices may vary.
Description
Inspired by the real-life husband and wife Nazi hunters Beate and Serge Klarsfeld, this thrilling, high-stakes Cold War novel from the bestselling author of Irena's War follows one couple's relentless pursuit of a fugitive Nazi scientist in the aftermath of WWII. A must-read for fans of Kate Quinn, Joseph Kanon, Alan Furst, Lara Prescott, and Anika Scott.

Berlin, 1948: World War II may be over, but a new era of conflict has begun. The Russians have cut off all access to the western part of Berlin in an attempt to seize it from the Allies. The thirst for power, dominance, and revenge is as strong as ever, and anti-Semitism is still rampant. When a store in West Berlin is vandalized with swastikas, Sara Sturm, a German woman working for the US Department of Public Affairs, is dispatched to investigate, and meets Max and Karl Portnoy, two Jewish survivors of the Holocaust.

Sharing their stories of loss, Sara and Max form a bond. Max and his family were sent to a concentration camp during the war, where his parents and sister perished. The man who betrayed them, Nazi nuclear scientist Heinz Hoffman, is now a wanted criminal. Since Max and his brother are among the very few who can identify him, Sara agrees to accompany them to Hoffman's last known whereabouts, hoping they will finally be able to bring him to justice.

But tracking the elusive Hoffman is not just difficult, it's perilous. From the mountainous backroads of Bavaria to the Soviet border, Sara and Max race to evade assassins sent by the top-secret Odessa organization. And then there are other adversaries, hidden but no less lethal, determined to gain control of Hoffman and the knowledge he possesses—knowledge that may determine the course of countless wars to come.

"Set in 1948 against the backdrop of the Berlin Blockade, this fast-moving Cold War thriller brings to life the shifting alliances that splintered the Allies in the years immediately following WWII. As readers attempt to sort out motives, the plot twists keep coming." –Booklist
Praise For Before the Storm: A Thrilling Historical Novel of Real Life Nazi Hunters…
Praise for Before the Storm

"Set in 1948 against the backdrop of the Berlin Blockade, this fast-moving Cold War thriller brings to life the shifting alliances that splintered the Allies in the years immediately following WWII…Shipman juxtaposes a pleasingly multifaceted crew of chasers and chased, including a lethal former SS sniper with a fondness for apple strudel. As readers attempt to sort out motives, the plot twists keep coming…Captures the chaos of the period." —Booklist

Praise for James D. Shipman
 
"This deeply impactful novel is based on the true story of Irena Sendler, a member of the Polish resistance who rescued 2,500 Jewish children from the Warsaw ghetto. James D. Shipman's heart-pounding historical thriller is a tribute to those who risked their lives to help others." —Christian Science Monitor, Best Books of the Month, on Irena's War
 
"Shipman dazzles in this historical tour-de-force based on the real-life story of WWII Polish resistance fighter Irena Sendler…The author's impeccable research, gripping prose, and pitch-perfect pacing bring an immediacy to the atrocities wreaked on Jews and other "undesirables." Shipman's humbling, spellbinding tale is a standout among recent works of Holocaust fiction." —Publishers Weekly STARRED REVIEW for Irena's War
 
"An extremely well-written, interesting account of a heroic woman… haunting. The images of ghetto life are so strongly constructed, the characters so well drawn that I found myself worrying about their survival." – Aaron Leibel, The Jerusalem Post on Irena's War

"Shipman seamlessly blends historical fact with fiction as he recounts the 1944 revolt… an authentic and gripping novel one should not miss; it is highly recommended." – Historical Novel Society, Editor's Choice on Beyond the Wire

"Sendler is presented as a heroic, yet flawed, idealist…her determination to save as many children as possible, and not to divulge the names of her contacts in the Resistance, was monumental…The twists and turns that led to her survival – some of them historic, some of them fictional – keep us turning the pages." – San Diego Jewish World on Irena's War

 "From the first crackling sentence to the vividly rendered climax, Task Force Baum provides the reader with a tempo that never flags. Based on a controversial raid in WWII to liberate a POW camp behind Nazi lines, this novel is revealing, and at the same time, great reading entertainment." —James R. Benn, author of When Hell Struck Twelve on Task Force Baum
 
"A Bitter Rain is the best kind of WWII novel, action-packed, populated by complex characters facing deep moral dilemmas, and historically accurate. I loved it." —Mark Sullivan, author of #1  bestseller Beneath a Scarlet Sky on A Bitter Rain
 
"Harrowing, intense, and oh so real, this story plunges the reader into the nightmare world of Nazi Germany where good and decent people struggle to survive." —Rhys Bowen, New York Times bestselling author of The Royal Spyness Series and In Farleigh Field on A Bitter Rain
Kensington, 9781496736734, 320pp.
Publication Date: February 21, 2023
About the Author
James D. Shipman is the bestselling author of historical fiction, including the acclaimed novels Irena's War, Beyond the Wire, Task Force Baum, and Before the Storm. Born and raised in the Pacific Northwest, he began publishing short stories and poems while earning a degree in history from the University of Washington and a law degree from Gonzaga University. Now a practicing attorney, he lives with his family in Washington State. Please visit him online at James-Shipman.com.