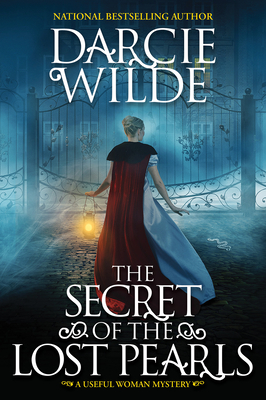 The Secret of the Lost Pearls
A Riveting Regency Historical Mystery (A Useful Woman Mystery #1)
Hardcover

* Individual store prices may vary.
Description
This captivating Regency-era mystery inspired by the novels of Jane Austen is perfect for fans of Andrea Penrose, Lauren Willig, and Deanna Raybourn, as readers venture beyond the glittering ballrooms and elegant parties of Regency London to the dark side of the city and its unexpected dangers.

Rosalind Thorne may not have a grand fortune of her own, but she possesses virtues almost as prized by the haut ton: discretion, and a web of connections that enable her to discover just about anything about anyone. Known as a "most useful woman," Rosalind helps society ladies in need—for a modest fee, of course—and her client roster is steadily increasing.

Mrs. Gerald Douglas, née Bethany Hodgeson, presents Rosalind with a particularly delicate predicament. A valuable pearl necklace has gone missing, and Bethany's husband believes the thief is Nora, Bethany's disgraced sister. Nora made a scandalous elopement at age sixteen and returned three years later, telling the family that her husband was dead.

But as Rosalind begins her investigations, under cover of helping the daughters of the house prepare for their first London season, she realizes that the family harbors even more secrets than scandals. The intrigue swirling around the Douglases includes fraud, forgery, blackmail, and soon, murder. And it will fall to Rosalind, aided by charming Bow Street officer Adam Harkness, to untangle the shocking truth and discover who is a thief—and who is a killer.
Praise For The Secret of the Lost Pearls: A Riveting Regency Historical Mystery (A Useful Woman Mystery #1)…
Praise for THE SECRET OF THE LOST PEARLS

"Rosalind Thorne treads a knife edge in [Regency] London....Penniless, she maintains her small household by helping more prosperous members of the haute ton solve their problems....Wilde springs a series of surprises....that are also opportunities for the reader to bond with her....Compelling." —Kirkus Review, STARRED REVIEW

Praise for Darcie Wilde's Regency-set mysteries
 
"Compelling period drama." —Kirkus Reviews on A Counterfeit Suitor
 
"Meticulously crafted… An empathetic, perceptive lead...her relationships with her caring friends add much to the book's appeal. A plot as complex as a Chinese puzzle box will keep readers turning the pages. Wilde offers a fascinating, richly detailed look at Regency society." —Publishers Weekly on A Counterfeit Suitor
 
"A well-researched story, the narrative is fast-paced with spot-on dialogue…An absolute delight." —Historical Novel Society on A Counterfeit Suitor
 
"Wilde writes about high society social codes the same way Phoebe Waller-Bridge makes cheeky asides in "Fleabag."" —Bookpage on A Lady Compromised  
 
"Complex social networks spark an equally complex puzzle." —Kirkus Reviews, STARRED REVIEW for A Lady Compromised
 
"[The heroine] is a great character, sharp-witted, intelligent, and independent-minded.  She has often been compared to Elizabeth Bennet, as is natural, because the series is clearly inspired by Jane Austen's novels, but I think a closer parallel would be to Anne Elliot in Persuasion." —Aunt Agatha's Bookstore on A Lady Compromised
 
"A Lady Compromised is a complex, enthralling mystery that rivals those of Anne Perry and Agatha Christie." —New York Journal of Books
 
"[The heroine] carries the soul of Sherlock Holmes in the world of Elizabeth Bennet, and it's a hard combination to beat." —BookPage on And Dangerous to Know
 
"The Regency frame is skillfully woven through a story that features surprising plot twists and an engaging subplot concerning [the heroine's] dilemma over whom to marry—Harkness or a duke who will allow her to reclaim her past." —Booklist on And Dangerous to Know
Kensington, 9781496738011, 400pp.
Publication Date: December 27, 2022
About the Author
Darcie Wilde is the award-winning author of stylishly adventurous historical mysteries and romances, including the Rosalind Thorne Mysteries, a Regency-set series inspired by the novels of Jane Austen, as well as the Regency Makeover Trilogy. She has also written, under the name Sarah Zettel, Locus and Philip K. Dick Award-winning novels, including Fool's War, a New York Times Notable Books of the Year selection. She lives in Michigan and can be found online at DarcieWildeRomance.com.