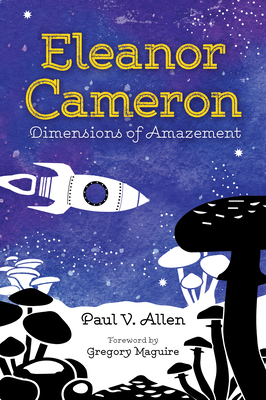 Eleanor Cameron
Dimensions of Amazement
Hardcover

* Individual store prices may vary.
Other Editions of This Title:
Paperback (4/19/2019)
Description
Eleanor Cameron (1912-1996) was an innovative and genre-defying author of children's fiction and children's literature criticism. From her beginnings as a librarian, Cameron went on to become a prominent and respected voice in children's literature, writing one of the most beloved children's science fiction novels of all time, The Wonderful Flight to the Mushroom Planet, and later winning the National Book Award for her time fantasy The Court of the Stone Children. In addition, Eleanor Cameron played an often vocal role in critical debates about children's literature. She was one of the first authors to take up literary criticism of children's novels and published two influential books of criticism, including The Green and Burning Tree. One of Cameron's most notable acts of criticism came in 1973, when she wrote a scathing critique of Roald Dahl's Charlie and the Chocolate Factory. Dahl responded in kind, and the result was a fiery imbroglio within the pages of the Horn Book Magazine. Yet despite her many accomplishments, most of Cameron's books went out of print by the end of her life, and her star faded. This biography aims to reinsert Cameron into the conversation by taking an in-depth look at her tumultuous early life in Ohio and California, her unforgettably forceful personality and criticism, and her graceful, heartfelt novels. The biography includes detailed analysis of the creative process behind each of her published works and how Cameron's feminism, environmentalism, and strong sense of ethics are reflected in and represented by her writings. Drawn from over twenty interviews, thousands of letters, and several unpublished manuscripts in her personal papers, Eleanor Cameron is a tour of the most exciting and creative periods of American children's literature through the experience of one of its valiant purveyors and champions.
University Press of Mississippi, 9781496814487, 266pp.
Publication Date: February 20, 2018
About the Author
Paul V. Allen is a literacy specialist at the elementary school level. He is author of The Hopefuls: Chasing a Rock 'n' Roll Dream in the Minnesota Music Scene and I Can Read It All by Myself: The Beginner Books Story, the latter published by University Press of Mississippi.