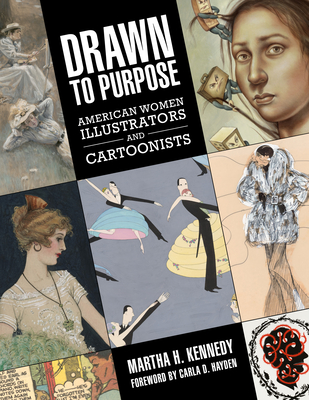 Drawn to Purpose
American Women Illustrators and Cartoonists
Hardcover

* Individual store prices may vary.
Description
Winner of the 2019 Eisner Award for the Best Comics-Related Book Published in partnership with the Library of Congress, Drawn to Purpose: American Women Illustrators and Cartoonists presents an overarching survey of women in American illustration, from the late nineteenth into the twenty-first century. Martha H. Kennedy brings special attention to forms that have heretofore received scant notice--cover designs, editorial illustrations, and political cartoons--and reveals the contributions of acclaimed cartoonists and illustrators, along with many whose work has been overlooked. Featuring over 250 color illustrations, including eye-catching original art from the collections of the Library of Congress, Drawn to Purpose provides insight into the personal and professional experiences of eighty women who created these works. Included are artists Roz Chast, Lynda Barry, Lynn Johnston, and Jillian Tamaki. The artists' stories, shaped by their access to artistic training, the impact of marriage and children on careers, and experiences of gender bias in the marketplace, serve as vivid reminders of social change during a period in which the roles and interests of women broadened from the private to the public sphere. The vast, often neglected, body of artistic achievement by women remains an important part of our visual culture. The lives and work of the women responsible for it merit much further attention than they have received thus far. For readers who care about cartooning and illustration, Drawn to Purpose provides valuable insight into this rich heritage.
University Press of Mississippi, 9781496815927, 255pp.
Publication Date: February 14, 2018
About the Author
Martha H. Kennedy is curator of popular and applied graphic art in the Prints and Photographs Division at the Library of Congress. She has curated exhibitions of cartoon and illustration art and developed the Library's collections of original graphic art. She has published in American Art, the International Journal of Comic Art, the Washington Print Club Quarterly, and the Library of Congress Magazine, as well as in Cartoon America: Comic Art in the Library of Congress and Humor's Edge: Cartoons by Ann Telnaes.