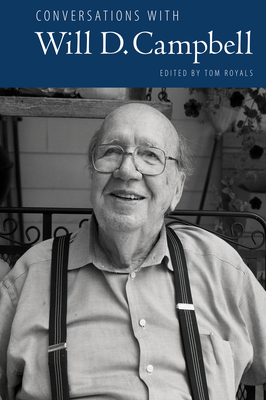 Conversations with Will D. Campbell (Literary Conversations) (Paperback)
University Press of Mississippi, 9781496818140, 160pp.
Publication Date: March 29, 2018
Other Editions of This Title:
Hardcover (4/19/2018)
* Individual store prices may vary.
Description
Conversations with Will D. Campbell is the first collection of interviews with the southern preacher, activist, and author best known for his involvement with the civil rights movement. Ranging from a 1971 discussion about religion and ending with a previously unpublished interview conducted in 2009, these twelve interviews give insight to Campbell's unique religious beliefs and highlight pivotal moments of his career. Will D. Campbell (1924-2013) was born poor in rural Mississippi and became an ordained minister when he was barely seventeen years old. After serving in the Army during World War II, Campbell ministered in a variety of positions, including a pastorate in Louisiana, as religious director at the University of Mississippi, and as a race relations consultant for the National Council of Churches. Along the way, Campbell worked with civil rights figures, Klansmen, Black Panthers, and country music icons, believing all were equal in the eyes of God. Throughout his career, Campbell drew attention for criticizing the institutional churches and supporting women's rights, gay rights, and school desegregation. From 1962 through 2012, Campbell published over fifteen books including novels, biographies, and memoirs. His first book, Race and the Renewal of the Church, introduced his theories of reconciliation and the failures of institutional churches. His best-known work, Brother to a Dragonfly, was a National Book Award finalist.
About the Author
Tom Royals is a retired lawyer. He received his BA from Millsaps College and his JD from the University of Mississippi.