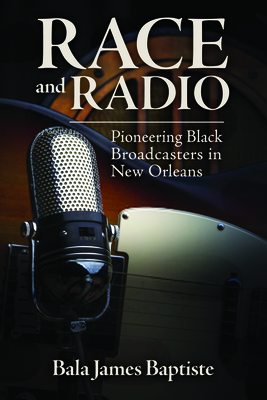 Race and Radio (Hardcover)
Pioneering Black Broadcasters in New Orleans
University Press of Mississippi, 9781496822062, 176pp.
Publication Date: August 1, 2019
Other Editions of This Title:
Paperback (8/1/2019)
* Individual store prices may vary.
Description
In Race and Radio: Pioneering Black Broadcasters in New Orleans, Bala James Baptiste traces the history of the integration of radio broadcasting in New Orleans and tells the story of how African American on-air personalities transformed the medium. Analyzing a trove of primary data--including archived manuscripts, articles and display advertisements in newspapers, oral narratives of historical memories, and other accounts of African Americans and radio in New Orleans between 1945 and 1965--Baptiste constructs a formidable narrative of broadcast history, racism, and black experience in this enormously influential radio market. The historiography includes the rise and progression of black broadcasters who reshaped the Crescent City. The first, O. C. W. Taylor, hosted an unprecedented talk show, the Negro Forum, on WNOE beginning in 1946. Three years later in 1949, listeners heard Vernon "Dr. Daddy-O" Winslow's smooth and creative voice as a disk jockey on WWEZ. The book also tells of Larry McKinley who arrived in New Orleans from Chicago in 1953 and played a critical role in informing black listeners about the civil rights movement in the city. The racial integration of radio presented opportunities for African Americans to speak more clearly, in their own voices, and with a technological tool that opened a broader horizon in which to envision community. While limited by corporate pressures and demands from advertisers ranging from local funeral homes to Jax beer, these black broadcasters helped unify and organize the communities to which they spoke. Race and Radio captures the first overtures of this new voice and preserves a history of black radio's awakening.
About the Author
Bala James Baptiste is associate professor of mass communications and chair of the Division of Communications at Miles College. His research concerns the intersection of African Americans, mass media, and history.