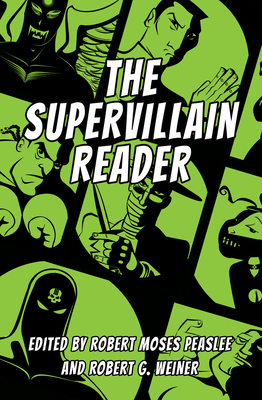 The Supervillain Reader
Hardcover

* Individual store prices may vary.
Other Editions of This Title:
Paperback (12/30/2019)
Description
Contributions by Jerold J. Abrams, Jos Alaniz, John Carey, Maurice Charney, Peter Coogan, Joe Cruz, Phillip Lamarr Cunningham, Stefan Danter, Adam Davidson-Harden, Randy Duncan, Richard Hall, Richard Heldenfels, Alberto Hermida, V ctor Hern ndez-Santaolalla, A. G. Holdier, Tiffany Hong, Stephen Graham Jones, Siegfried Kracauer, Naja Later, Ryan Litsey, Tara Lomax, Tony Magistrale, Matthew McEniry, Cait Mongrain, Grant Morrison, Robert Moses Peaslee, David D. Perlmutter, W. D. Phillips, Jared Poon, Duncan Prettyman, Vladimir Propp, Noriko T. Reider, Robin S. Rosenberg, Hannah Ryan, Lennart Soberon, J. Richard Stevens, Lars Stoltzfus-Brown, John N. Thompson, Dan Vena, and Robert G. Weiner The Supervillain Reader, featuring both reprinted and original essays, reveals why we are so fascinated with the villain. The obsession with the villain is not a new phenomenon, and, in fact, one finds villains who are "super" going as far back as ancient religious and mythological texts. This innovative collection brings together essays, book excerpts, and original content from a wide variety of scholars and writers, weaving a rich tapestry of thought regarding villains in all their manifestations, including film, literature, television, games, and, of course, comics and sequential art. While The Supervillain Reader focuses on the latter, it moves beyond comics to show how the vital concept of the supervillain is part of our larger consciousness. Editors Robert Moses Peaslee and Robert G. Weiner collect pieces that explore how the villain is a complex part of narratives regardless of the original source. The Joker, Lex Luthor, Harley Quinn, Darth Vader, and Magneto must be compelling, stimulating, and proactive, whereas the superhero (or protagonist) is most often reactive. Indeed, whether in comics, films, novels, religious tomes, or video games, the eternal struggle between villain and hero keeps us coming back to these stories over and over again.
University Press of Mississippi, 9781496826466, 432pp.
Publication Date: December 30, 2019
About the Author
Robert Moses Peaslee is chair and associate professor in the Department of Journalism and Creative Media Industries at Texas Tech University. Robert G. Weiner is popular culture librarian at Texas Tech University. They coedited The Joker: Critical Essays on the Clown Prince of Crime, published by University Press of Mississippi, and Web-Spinning Heroics: Critical Essays on the History and Meaning of Spider-Man, as well as Marvel Comics into Film: Essays on Adaptations since the 1940s (with Matthew McEniry).