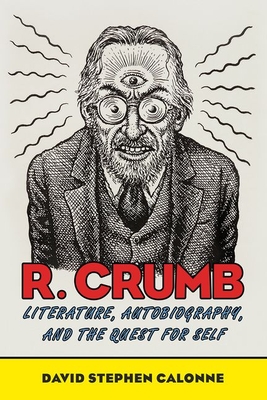 R. Crumb
Literature, Autobiography, and the Quest for Self
Paperback

* Individual store prices may vary.
Other Editions of This Title:
Hardcover (2/1/2021)
Description
Robert Crumb (b. 1943) read widely and deeply a long roster of authors including Robert Louis Stevenson, Charles Dickens, J. D. Salinger, Jack Kerouac, William S. Burroughs, and Allen Ginsberg, as well as religious classics including biblical, Buddhist, Hindu, and Gnostic texts. Crumb's genius, according to author David Stephen Calonne, lies in his ability to absorb a variety of literary, artistic, and spiritual traditions and incorporate them within an original, American mode of discourse that seeks to reveal his personal search for the meaning of life. R. Crumb: Literature, Autobiography, and the Quest for Self contains six chapters that chart Crumb's intellectual trajectory and explore the recurring philosophical themes that permeate his depictions of literary and biographical works and the ways he responds to them through innovative, dazzling compositional techniques. Calonne explores the ways Crumb develops concepts of solitude, despair, desire, and conflict as aspects of the quest for self in his engagement with the book of Genesis and works by Franz Kafka, Jean-Paul Sartre, the Beats, Charles Bukowski, and Philip K. Dick, as well as Crumb's illustrations of biographies of musicians Jelly Roll Morton and Charley Patton. Calonne demonstrates how Crumb's love for literature led him to attempt an extremely faithful rendering of the texts he admired while at the same time highlighting for his readers the particular hidden philosophical meanings he found most significant in his own autobiographical quest for identity and his authentic self.
University Press of Mississippi, 9781496831866, 288pp.
Publication Date: January 15, 2021
About the Author
David Stephen Calonne is senior lecturer in the Department of English Language and Literature at Eastern Michigan University. He is author of several works, including William Saroyan: My Real Work Is Being; The Spiritual Imagination of the Beats; Diane di Prima: Visionary Poetics and the Hidden Religions; and biographies of Charles Bukowski and Henry Miller. Calonne is also editor of five volumes of uncollected Bukowski stories and essays as well as Conversations with Gary Snyder and Conversations with Allen Ginsberg, both published by University Press of Mississippi.