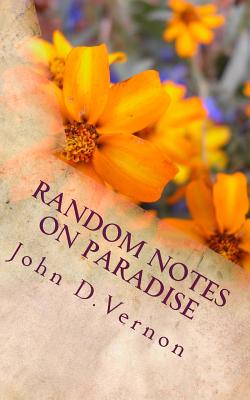 Random Notes on Paradise (Paperback)
Createspace Independent Publishing Platform, 9781497324961, 136pp.
Publication Date: March 12, 2014
* Individual store prices may vary.
Description
Imagine a world without stress or displeasure-a world where inspiration is always present, dreams are frequently fulfilled, and positivity exists in all interactions.
This is paradise, a land of endless pleasure and satisfaction. It goes beyond simple happiness, and instead embodies goodness in its highest, purest form.
And best of all, this type of utopia on earth will be achievable soon, thanks to major advancements in the worlds of medicine and social progress.
So what will it take to get us there? In Random Notes on Paradise, author John D. Vernon contemplates the future of society in a world where beauty and happiness rule the day, and even the most brutal of illnesses are effortlessly cured.
Militaries with no need to hurt or kill. Everyone working according to his or her own passions. These are just a couple of the aspects of the man-made paradise humankind can look forward to-and what starts with just a few, will soon spread to millions.
This thought-provoking read shows how close we are to achieving this new milestone of humanity, and spurs us on with glimpses of the infinite happiness to be expected when we get to this utopian state.
About the Author
John D. Vernon is a seventy-six-year-old, first-time author who spent many nights writing Random Notes on Paradise. Over the years, he has lived and gone to school in several different places, while battling the effects of mental illness. Vernon has one sister, and currently lives in a care home.
or
Not Currently Available for Direct Purchase