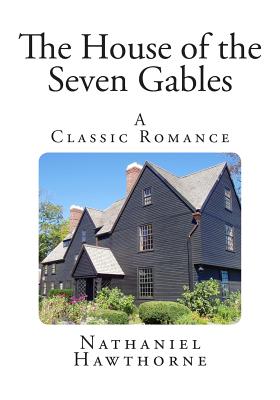 The House of the Seven Gables (Paperback)
Createspace Independent Publishing Platform, 9781497488946, 250pp.
Publication Date: March 29, 2014
Other Editions of This Title:
Paperback (12/16/2017)
Paperback (9/3/2019)
Paperback (7/29/2012)
Paperback (10/25/2005)
Paperback (2/28/2017)
Paperback (12/21/2019)
Paperback (9/30/2019)
Hardcover (5/25/2017)
Hardcover (4/6/2010)
Paperback (10/19/2018)
Paperback (5/25/2017)
Hardcover (10/16/2009)
Hardcover (10/16/2009)
Hardcover (4/12/2005)
Hardcover (5/14/2018)
Hardcover (10/24/2015)
Hardcover (10/5/2007)
Hardcover (10/23/2015)
Hardcover (5/3/2016)
* Individual store prices may vary.
Description
The House of the Seven Gables - A Gothic Novel By Nathaniel Hawthorne The House of the Seven Gables is a Gothic novel written beginning in mid-1850 by American author Nathaniel Hawthorne and published in April 1851 by Ticknor and Fields of Boston. The novel follows a New England family and their ancestral home. In the book, Hawthorne explores themes of guilt, retribution, and atonement and colors the tale with suggestions of the supernatural and witchcraft. The setting for the book was inspired by a gabled house in Salem belonging to Hawthorne's cousin Susanna Ingersoll and by ancestors of Hawthorne who had played a part in the Salem Witch Trials of 1692. The book was well received upon publication and later had a strong influence on the work of H. P. Lovecraft. The House of the Seven Gables has been adapted several times to film and television. The novel is set in the mid-19th century, although it includes glimpses into the history of the house, which was built in the late 17th century. The house of the title is a gloomy New England mansion, haunted since its construction by fraudulent dealings, accusations of witchcraft, and sudden death. The current resident, the dignified but desperately poor Hepzibah Pyncheon, opens a shop in a side room to support her brother Clifford, who is about to leave prison after serving thirty years for murder. She refuses all assistance from her wealthy but unpleasant cousin, Judge Jaffrey Pyncheon. A distant relative, the lively and pretty young Phoebe, turns up and quickly becomes invaluable, charming customers and rousing Clifford from depression. A delicate romance grows between Phoebe and the mysterious attic lodger Holgrave, who is writing a history of the Pyncheon family.
About the Author
Nathaniel Hawthorne (born Nathaniel Hathorne; July 4, 1804 - May 19, 1864) was an American novelist and short story writer. He was born in 1804 in Salem, Massachusetts to Nathaniel Hathorne and the former Elizabeth Clarke Manning. His ancestors include John Hathorne, the only judge involved in the Salem witch trials who never repented of his actions. Nathaniel later added a "w" to make his name "Hawthorne" in order to hide this relation. He entered Bowdoin College in 1821, was elected to Phi Beta Kappa in 1824, and graduated in 1825. Hawthorne published his first work, a novel titled Fanshawe, in 1828; he later tried to suppress it, feeling it was not equal to the standard of his later work. He published several short stories in various periodicals which he collected in 1837 as Twice-Told Tales. The House of the Seven Gables - A Gothic Novel By Nathaniel Hawthorne