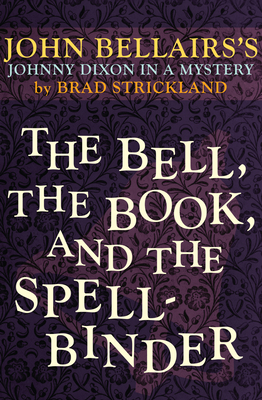 The Bell, the Book, and the Spellbinder (Johnny Dixon #11)
Paperback

* Individual store prices may vary.
Description
Hidden away in the local library, a sorcerer's book casts an evil spell in a novel by the author of The House with a Clock in Its Walls Johnny Dixon and his best friend Fergie are whiling away a rainy day at the Duston Heights library when Johnny asks a screwy question: "What's the last book in the library?" After Johnny goes home, Fergie decides to find out. There, under number 999.99, he finds a very peculiar tome, The Book of True Wishes, which is all about Fergie's favorite subject: himself. The book knows Fergie's name, and it promises him everything he ever wanted, which means he is about to forget a very important rule: Be careful what you wish for. When the book puts Fergie under the spell of a mad old wizard, Johnny and his friend Professor Childermass will do whatever it takes to break the book's hold and save their friend. Johnny Dixon and his eccentric professor friend are two of the most delightful characters in literature as well as "an endearing detective team," and their adventures continue to hold readers of all ages spellbound (The New York Times).
Open Road Media Teen & Tween, 9781497608054, 116pp.
Publication Date: August 12, 2014
About the Author
John Bellairs is beloved as a master of Gothic young adult novels and fantasies. His series about the adventures of Lewis Barnavelt and his uncle Jonathan, which includes The House with a Clock in Its Walls, is a classic. He also wrote a series of novels featuring the character Johnny Dixon. Among the titles in that series are The Curse of the Blue Figurine; The Mummy, the Will, and the Crypt; and The Spell of the Sorcerer's Skull. His stand-alone novel The Face in the Frost is also regarded as a fantasy classic, and among his earlier works are St. Fidgeta and Other Parodies and The Pedant and the Shuffly. Bellairs was a prolific writer, publishing more than a dozen novels before his untimely death in 1991. Brad Strickland has written and cowritten forty-one novels, many of them for younger readers. He is the author of the fantasy trilogy Moon Dreams, Nul's Quest, and Wizard's Mole, and the creator of the popular horror novel Shadowshow. With his wife, Barbara, he has written for the Star Trek Young Adult book series, for Nickelodeon's Are You Afraid of the Dark? book series, and for Sabrina, the Teenage Witch (Pocket Books). Both solo and with Thomas E. Fuller, he has written several books about Wishbone, public TV's literature-loving dog. When he's not writing, he teaches English at Gainesville College in Gainesville, Georgia. He and Barbara have two children, Amy and Jonathan, and a daughter-in-law, Rebecca. They live and work in Oakwood, Georgia.
or
Not Currently Available for Direct Purchase