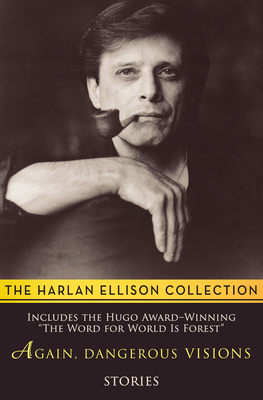 Again, Dangerous Visions (Paperback)
Stories
Open Road Media Science & Fantasy, 9781497636460, 754pp.
Publication Date: June 3, 2014
* Individual store prices may vary.
Description
A Hugo Award-winning anthology with stories by Ursula K. Le Guin, Kurt Vonnegut, Dean Koontz, Thomas Disch, Ben Bova, and many more.

Over the course of his legendary career, Harlan Ellison has defied--and sometimes defined--modern fantasy literature, all while refusing to allow any genre to claim him. A Grand Master of the Science Fiction Writers of America, winner of the Lifetime Achievement Award from the Horror Writers Association as well as winner of countless awards, including the Hugo, Nebula, Edgar Allan Poe, and Bram Stoker, Ellison is as unpredictable as he is unique, irrepressible as he is infuriating. Again, Dangerous Visions is the classic companion to the most essential science fiction anthology ever published, and includes forty-six original stories edited and with introductions by Harlan Ellison, featuring John Heidenry, Ross Rocklynne, Ursula K. Le Guin, Andrew J. Offutt, Gene Wolfe, Ray Nelson, Ray Bradbury, Chad Oliver, Edward Bryant, Kate Wilhelm, James B. Hemesath, Joanna Russ, Kurt Vonnegut, T. L. Sherred, K. M. O'Donnell (Barry N. Malzberg), H. H. Hollis, Bernard Wolfe, David Gerrold, Piers Anthony, Lee Hoffman, Gahan Wilson, Joan Bernott, Gregory Benford, Evelyn Lief, James Sallis, Josephine Saxton, Ken McCullough, David Kerr, Burt K. Filer, Richard Hill, Leonard Tushnet, Ben Bova, Dean Koontz, James Blish and Judith Ann Lawrence, A. Parra (y Figueredo), Thomas M. Disch, Richard A. Lupoff, M. John Harrison, Robin Scott, Andrew Weiner, Terry Carr, and James Tiptree Jr.
About the Author
Harlan Ellison (1934-2018), in a career spanning more than fifty years, wrote or edited one hundred fourteen books; more than seventeen hundred stories, essays, articles, and newspaper columns; two dozen teleplays; and a dozen motion pictures. He won the Hugo Award eight and a half times (shared once); the Nebula Award three times; the Bram Stoker Award, presented by the Horror Writers Association, five times (including the Lifetime Achievement Award in 1996); the Edgar Allan Poe Award of the Mystery Writers of America twice; the Georges Melies Fantasy Film Award twice; and two Audie Awards (for the best in audio recordings); and he was awarded the Silver Pen for Journalism by PEN, the international writers' union. He was presented with the first Living Legend Award by the International Horror Critics at the 1995 World Horror Convention. Ellison is the only author in Hollywood ever to win the Writers Guild of America award for Outstanding Teleplay (solo work) four times, most recently for "Paladin of the Lost Hour," his Twilight Zone episode that was Danny Kaye's final role, in 1987. In 2006, Ellison was awarded the prestigious title of Grand Master by the Science Fiction and Fantasy Writers of America. Dreams with Sharp Teeth, the documentary chronicling his life and works, was released on DVD in May 2009. He passed away in 2018 at the age of eighty-four.
or
Not Currently Available for Direct Purchase