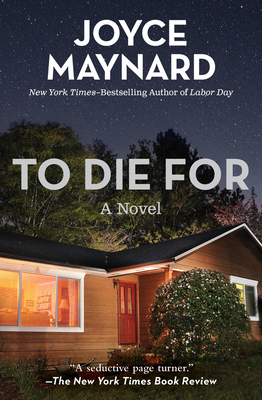 To Die for
Paperback

* Individual store prices may vary.
Other Editions of This Title:
Mass Market Paperback (1/1/1993)
Paperback (2/1/2003)
Description
"A seductive page-turner" about a murderously ambitious cable-news star by the New York Times-bestselling author of Labor Day (The New York Times Book Review).

Local weather reporter Suzanne Maretto craves nothing more than to transcend life at her suburban cable television news station and follow in the footsteps of her idol: Barbara Walters. When she concludes that her unglamorous husband is getting in the way of her dream of stardom, the solution seems obvious: Get rid of him. She seduces a fifteen-year-old admirer, Jimmy, and persuades him to do her dirty work. Mission accomplished, Suzanne takes to the airwaves in her new role as grieving widow, in search of a TV deal. If that means selling Jimmy down the river, she's ready.

Maynard's brilliant, funny, and groundbreaking novel--adapted by Gus Van Sant into the cult classic movie of the same name, starring Nicole Kidman--was first published in 1992 before the era of manufactured stardom and the phenomenon of televised murder trials as entertainment. The book still stands as a razor-sharp satire of celebrity-fixated culture and the American obsession with TV--a novel that imagined the phenomenon of reality television before its creation, with alternately bone-chilling and hilarious accuracy.

This ebook features an illustrated biography of Joyce Maynard including rare photos from the author's personal collection.
Open Road Media, 9781497643826, 422pp.
Publication Date: May 20, 2014