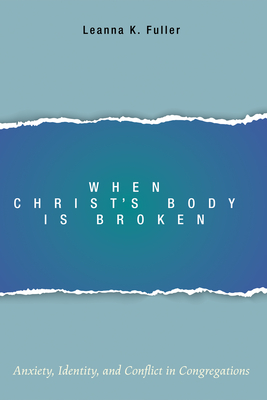 When Christ's Body Is Broken (Paperback)
Pickwick Publications, 9781498203371, 234pp.
Publication Date: March 3, 2016
* Individual store prices may vary.
Description
When Christ's Body Is Broken tells the stories of two congregations in conflict. Although these churches had very different problems, they faced similar struggles: to articulate a faithful response to their concerns and to cope with the discord that threatened to tear their communities apart. Pastoral theologian Leanna K. Fuller shares these stories as a way of exploring the sources and dynamics of conflict in congregations. She argues that at the heart of such conflict lies anxiety triggered by encounters with difference. Bringing together resources from pastoral theology, psychodynamic theory, and social psychology, Fuller offers a theological reframing of conflict through categories of diversity, vulnerability, and hospitality--categories that, she argues, can encourage human beings to sit with the anxiety stirred by communal life and remain connected across differences. This reframing provides fertile ground out of which Fuller imagines concrete practices designed for conflicted communities and their leaders. ""Why are church conflicts so common and often so destructive? Why is conflict such an innate part of human life? Why do people and groups in conflict act in irrational and extreme ways? And what can we do about it? Fuller ably answers all of these questions in a text deeply informed by theology, the social sciences, and lived experience. She offers a convincing case for conflict as an opportunity for growth when encountered with vulnerability, compassion, and hospitality. Her prescribed cures and belief in the possibility of transformation ring true and offer hope to anyone who struggles with conflict."" --LeDayne McLeese Polaski, Executive Director, Bautistas por la Paz, Baptist Peace Fellowship of North America ""Many communities of faith are coming apart and their leaders and members struggle to make sense of and respond to the fragmentation. To those who seek to cultivate life-giving community, Fuller offers a resource for hope and direction. She first frames and interprets conflict within two congregations using insights from social psychology and group identity. Fuller then proposes a hopeful theology of difference that frames practical ways forward so that what might destroy can instead be a source of growth and renewal."" --Barbara J. McClure, Associate Professor of Pastoral Theology and Practice, Brite Divinity School ""Many of us have weathered painful church conflict but no one has taken up the problem as provocatively as Leanna Fuller. As refreshing as her use of social psychology on group dynamics and her incisive case studies is her diagnosis of the theological dynamics necessary for healing. She is to be especially commended among pastoral theologians for turning attention to congregations and struggles unique to life in community. An exemplary disciplinary and practical resource "" --Bonnie J. Miller-McLemore, E. Rhodes and Leona B. Carpenter Professor of Religion, Psychology, and Culture, The Divinity School and Graduate Department of Religion; author, Christian Theology in Practice: Discovering a Discipline (Eerdmans, 2012) Leanna K. Fuller is Assistant Professor of Pastoral Care at Pittsburgh Theological Seminary in Pittsburgh, Pennsylvania. She is also an ordained clergyperson in the United Church of Christ and has pastoral experience in congregational and health care settings.