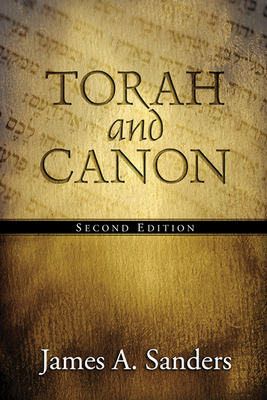 Torah and Canon
Hardcover

* Individual store prices may vary.
Other Editions of This Title:
Paperback (6/8/2005)
Description
Description: In this thoroughly revised edition of his classic work, James A. Sanders introduces the reader to canonical criticism. Tracking the various developments of biblical literature and their acceptance by the communities of faith, Sanders tackles the tough questions. He discusses the differences between the parts of the canon, the editing of the texts by later generations, the diversity of canons used in different communities, how the Dead Sea Scrolls raise new questions for canonicity, and the differences between how Jews and Christians have interacted with their canons. In addition to all the updates and revisions, Sanders provides a new introduction and bibliography. Endorsements: Praise for the first edition: "Sanders does not give excessive or privileged stress to the final form of the canon. What interests him is the canonical process operative through all the stages of Israel's literary history. The canonical process was a trend toward repeating communal values and resignifying them in textual form. Furthermore, the various ways in which biblical writers repeated and resignified these values along the trajectory toward the final canon provides us appropriate canonical hermeneutics for our own reading of the Bible. Scripture is seen as 'adaptable for life' throughout its entire course from initial composition and collection down to its present appropriation." --Norman K. Gottwald author of The Hebrew Bible: A Socio-Literary Introduction "Professor Sanders has written a highly important and penetrating inquiry into the formation, structure, and use of the Old Testament as canon. . . . The author is to be commended for injecting a new element into the growing dialogue between Judaism and Christianity." --Review and Expositor About the Contributor(s): James A. Sanders is President Emeritus of the Ancient Biblical Manuscript Center in Claremont, California. From 1977 to 1997, he served as Elizabeth Hay Bechtel Professor of Intertestamental and Biblical Studies at Claremont School of Theology and Professor of Religion at Claremont Graduate School. Among his many publications are Canon and Community and From Sacred Story to Sacred Text.
Cascade Books, 9781498210249, 190pp.
Publication Date: June 8, 2005