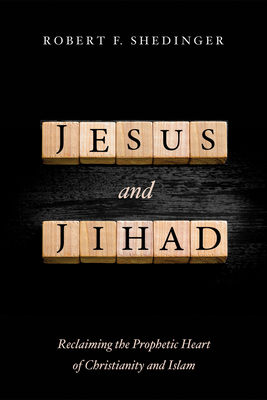 Jesus and Jihad
Paperback

* Individual store prices may vary.
Other Editions of This Title:
Hardcover (6/22/2015)
Description
Few words inspire more fear in Americans these days than jihad. Its mere utterance conjures up images of car bombs exploding in crowded markets; Boeing 737s crashing into tall buildings; and flag-burning, gun-toting bearded Arab men shouting, ""allahu akbar"" and ""Death to America "" But what if all our stereotypical images of jihad are wrong, and when rightly understood, jihad turns out to be the perfect lens through which to understand the life and mission of Jesus? Jesus and Jihad argues that in early Muslim sources jihad stood for the struggle to transform a violent and unjust pre-Islamic society into one characterized by greater levels of justice and peace. When rescued from his Christian pietistic misinterpretations, Jesus emerges as a highly prophetic figure of resistance to the injustices authorized by Roman imperial power. As Muslims reengage an authentic understanding of jihad, and Christians, through a renewed understanding of jihad, meet the prophetic Jesus from whom they have become estranged, a new era of Christian-Muslim cooperation in the struggle against injustice can become the norm, replacing the current antipathy dividing these communities with a passion to reclaim once again a prophetic heart in service to a hurting world. ""Shedinger is at it again, making high-order conceptual mischief for the sake of interreligious wisdom. In this gem of a book, he brilliantly argues that Jesus was a jihadi. Shedinger makes this provocative claim because he wants Christians to learn that 'jihad' is spiritual and social struggle against every form of injustice. Shedinger shows that Christians desperately need this Muslim wisdom in order to be truly Christian. A must-read "" --John J. Thatamanil, Associate Professor of Theology and World Religions, Union Theological Seminary ""Robert Shedinger's Jesus and Jihad is a timely and powerful argument for interfaith solidarity with a view to developing a mature spirituality . . . Shedinger argues elegantly for a spirituality that is only godly when it is the source of struggling determinedly against all forms of injustice."" --Farid Esack, Professor in the Study of Islam, Head of the Department of Religion Studies, University of Johannesburg Robert F. Shedinger is Professor of Religion at Luther College in Decorah, Iowa. He holds a PhD in religious studies from Temple University and is the author of Radically Open (Cascade Books, 2012) and Was Jesus a Muslim? (2009). He is a frequent speaker in Islamic centers in the United States and Canada.
Cascade Books, 9781498220217, 178pp.
Publication Date: June 22, 2015