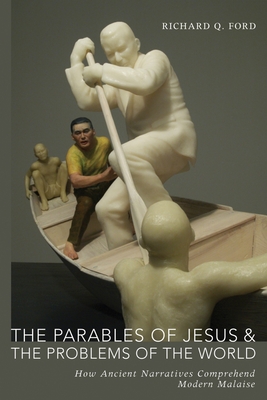 The Parables of Jesus and the Problems of the World (Paperback)
Cascade Books, 9781498232975, 182pp.
Publication Date: September 9, 2016
* Individual store prices may vary.
Description
Remarkable is how extensively in each parable Jesus provides a subtle but rich array of unexpected possibilities hidden within the hierarchies of power so commonplace in his world. By doing so he profoundly addresses the perils inherent in the prerogatives of many of us living in today's world. In these ancient interpersonal tragedies, readers can discover modern global analogues--where the powerful still control the powerless and where others of us, immersed as we are in privilege, are still willing to side with control. BIG ENDORSEMENTS--NEED TO BE EDITED ""Reader beware: this subtle yet passionate book might make you doubt what you've never questioned about Jesus' parables. Ford helps us see that these seemingly simple stories are actually cunning invitations to ponder the tragedies of co-dependencies between characters separated by vast discrepancies of power. If that weren't enough, Ford provocatively juxtaposes Jesus' parables with contemporary economic, political, and military crises fraught with global injustices. If you can read this book without squirming, you probably aren't understanding it."" --Robert J. Miller, Rosenberger Professor of Religious Studies and Christian Thought, Juniata College, Pennsylvania ""This study of the parables is a remarkable achievement, weaving as it does an analysis of the ways of imperial power with a penetrating reading of the parables. The result is that the reader is immersed in the power relations in the parable at one moment and issues of global import the next. Ford's approach reminds us that the power of parables is to surprise and transform. The reader who spends time with this study will emerge with a deeper understanding of global issues and a deeper understanding of the parables."" --William R. Herzog II, retired New Testament professor; author of Parables as Subversive Speech: Jesus as Pedagogue of the Oppressed ""Christian theology has usually accepted the longer parables of Jesus as portraits of an authoritarian, obscenely wealthy and greedy, vindictive, and violent God who can, on occasion, become generous or forgiving. Richard Ford sees the complexity and the ambiguity and the malleability of the parables. He does not interpret the parables, but invites readers to explore and probe them as ways to discern what is (really) happening in current political-economic conflicts: the US conquest of Iraq and its oil, Wall Street's gambling with the US and world economy, the Western megabanks manipulation of smaller countries into debt, and fuel companies' generation of climate chaos. With his wide and deep knowledge of how the exploitative Roman imperial political-economic system worked to impoverish people in Palestine, he deftly uncovers the backstory behind these parables that have previously been taken as rather superficial 'slices of life.' With his remarkably wide knowledge of the hegemonic, US-dominated, global capitalist system and its predatory policies, he helps readers pull back the curtain of obfuscating corporate and government propaganda. Ford's Parables of Jesus and the Problems of the World is the most provocative, suggestive, and deeply unsettling book about the parables or any biblical material in many years."" --Richard Horsley, Distinguished Professor, emeritus, of Liberal Arts and the Study of Religion, University of Massachusetts Boston; author of Jesus and the Powers, Jesus and Empire, Jesus and Magic, and Text and Tradition in Performance and Writing Richard Q. Ford, MDiv, PhD, a clinical psychologist and psychotherapist, is coauthor with Sidney J. Blatt of Therapeutic Change: An Object Relations Perspective, and author of The Parables of Jesus: Recovering the Art of Listening. He resides in Williamstown, Massachusetts.