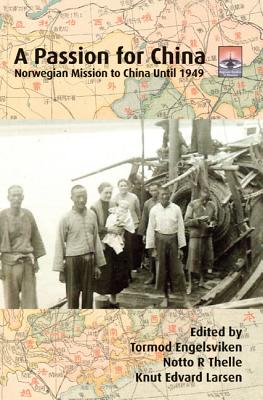 A Passion for China (Regnum Studies in Mission)
Paperback

* Individual store prices may vary.
Other Editions of This Title:
Paperback (1/1/2015)
Description
Protestant Western mission to China since Robert Morrison arrived in Macao in 1807 until Mao Zedong's Communist revolution 1949 has been controversial, not least in China. When the missionaries after 1949 were expelled from China, the official Chinese history did not leave them much honour. They were viewed as lackeys of Western imperialism propagating a religion that was ""feudal superstition"" and which would eventually disappear in a Communist society. Yet, today the view of the missionaries is changing in Chinese historiography. This book is an attempt to present some aspects of the many-faceted Norwegian Protestant mission to China during the 60 years from about 1890 to 1949. Among the themes that are dealt with in the ten chapters are the background of missionaries and their motivation for mission to China, the personal relationship between the missionaries and the Chinese, missionary contributions to contextual Chinese preaching, liturgy and hymns, missionaries as instruments of revival, and social justice and women's rights. The book is also a tribute to all the men and women who gave their lives to the mission to China and to the millions of Christians of China who have persevered during hard times until today. These vigorously written and boldly argued essays are not to be missed by anyone who cares about the vitality and authenticity of the church's life and mission. An impressive array of scholarly contributions representing different Norwegian Mission agencies have come together to make a sound case for the missionary past. This book is indispensable to the understanding of Norwegian mission in China from the beginning to the establishment of People's Republic of China. I thoroughly enjoyed this work and found it to be immensely important for Christian mission history as whole. -Prof. Dr. Nicholas H. F. Tai, Former bishop of the Evangelical Lutheran Church of Hong Kong, Dean of Studies of the Lutheran Theological Seminary Before I read this book I thought I knew the basics about Norwegian mission in China. But I experienced that the volume and its diverse chapters opened up completely new windows - windows into life and culture in the Middle Kingdom and into the personalities of Norwegian missionaries. The stories are well-researched and present information that will be new to most. In addition the stories are moving and genuine and reflect a deep love for China and the Chinese. -Knud Jorgensen, Adjunct Professor at MF Norwegian School of Theology Tormod Engelsviken is Professor emeritus at the MF Norwegian School of Theology. Notto R. Thelle is Senior Professor at the Faculty of Theology, University of Oslo. Knut Edvard Larsen is Director of the Egede Institute for Missiological Study and Research.
Wipf & Stock Publishers, 9781498237062, 214pp.
Publication Date: August 13, 2015
or
Not Currently Available for Direct Purchase