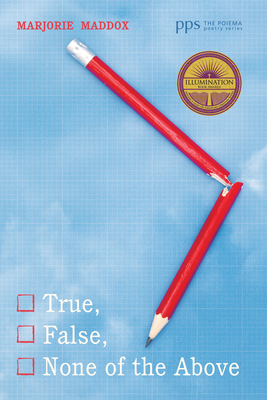 True, False, None of the Above (Poiema Poetry #19)
Hardcover

* Individual store prices may vary.
Other Editions of This Title:
Paperback (4/7/2016)
Description
True, False, None of the Above poetically explores what it means to write, read, and teach literature in a world that--at turns--rejects, embraces, or shrugs indifferently at the spiritual. This is a book on the intersection of words and belief, on how books mark and mirror our lives, and how sometimes the journey we experience on the page leads us to faith. "In True, False, None of the Above, Maddox offers us a brilliant, witty, and vulnerable garland of poems. Here is the voice of a teacher, a poet, a mother and wife, a woman of faith bearing witness to a deep and lasting Truth, summoning--among others--the likes of Dante, Hopkins, Dickinson, Eliot, and Frost, each calling out to the other, often at scintillant cross-purposes, all set choiring to this magisterial teacher's gentle bidding. --Paul Mariani, University Professor of English, Boston College; author of God and the Imagination: On Poets, Poetry, and the Ineffable "In the preface to her book True, False, None of the Above, Maddox describes the experience of literature--whether reading, teaching, or creating it--as a 'confrontation with reality.' And her poems indeed confront a range of uneasy truths, from adultery and natural disasters to tooth extraction and raising teens. Maddox builds on the shared imagination of writers and readers, richly and deftly, to deepen and challenge our spirits." --Tania Runyan, author of Second Sky "In some of these poems, Marjorie Maddox riffs on the poetry of other writers. Sometimes she sings like an angel, even about illness and death. She wields forms brilliantly, and she tells delicious stories about what goes on in her classroom. Everybody who relishes good poetry should buy this book. But if you're a teacher--or if you've ever sat in a classroom anywhere--True, False, None of the Above will make you laugh out loud." --Jeanne Murray Walker, Professor of English, University of Delaware; author of Shadow & Light: Literature and the Life of Faith "In poem after poem Marjorie Maddox creates a rich environment in which the best teaching (and she is always a teacher) takes place in dialogue, even though conversations are not always neatly resolved. But she also consistently and convincingly points to what we need: 'The real, the spiritual, the Real.'" --Jill Baumgaertner, Author, What Cannot Be Fixed Sage Graduate Fellow at Cornell University (MFA) and professor of English at Lock Haven University, Marjorie Maddox has published ten collections of poetry--most recently Local News from Someplace Else--four children's books, the short story collection What She Was Saying, and over 450 stories, poems, and essays in journals and anthologies. The recipient of numerous awards, she also is coeditor of Common Wealth: Contemporary Poets on Pennsylvania. For more information, please see www.marjoriemaddox.com.
Cascade Books, 9781498239240, 104pp.
Publication Date: April 7, 2016
About the Author
Marjorie Maddox is Professor of English and Creative Writing at Lock Haven University. She is the author of Local News from Someplace Else (Wipf & Stock, 2013); Perpendicular As I (1994 Sandstone Book Award); Weeknights at the Cathedral (2006); Transplant, Transport, Transubstantiation (2004 Yellowglen Prize); When the Wood Clacks Out Your Name: Baseball Poems (2001 Redgreene Press Chapbook Winner); Body Parts (1999); Ecclesia (1997); How to Fit God into a Poem (1993 Painted Bride Chapbook Winner); Nightrider to Edinburgh (1986 Amelia Chapbook Winner); and the forthcoming short story collection What She Was Saying, as well as over 450 poems, stories, and essays in journals and anthologies. She is the co-editor, with Jerry Wemple, of Common Wealth: Contemporary Poets on Pennsylvania (2005) and two children's books--A Crossing of Zebras: Animal Packs in Poetry (2008) and Rules of the Game: Baseball Poems (2009)--and two forthcoming--A Man Named Branch: The True Story of Baseball's Great Experimentand Inside Out: Poems on Writing Poems. Working Poet: 75 Writing Exercises. Her memoir essay, Going Exactly Where We Want to Go, is included in Fast Break to Line Break: Poets on the Art of Basketball, edited by Todd Davis. Marjorie studied with A. R. Ammons, Robert Morgan, Phyllis Janowitz, and Ken McClane at Cornell, where she received her MFA in poetry in 1989. Maddox received an MA in English at the University of Louisville and a BA in Literature at Wheaton College. She lives with her husband and two children in Williamsport, PA, birthplace of Little League and home of the Little League World Series. She is the great grandniece of baseball legend Branch Rickey, the general manager of the Brooklyn Dodgers who helped break the color barrier by signing Jackie Robinson.