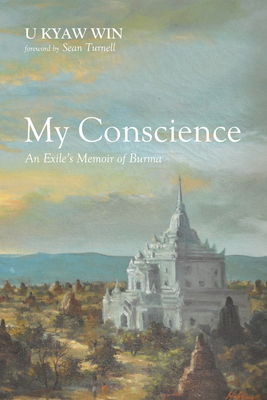 My Conscience (Paperback)
Resource Publications (CA), 9781498282710, 272pp.
Publication Date: July 8, 2016
Other Editions of This Title:
Hardcover (7/8/2016)
* Individual store prices may vary.
Description
Since gaining its independence from British colonial rule in 1948, Burma's history has been cursed. The military raped the resource-rich country for fifty years and drove its people to penury. Activists who advocated for democracy were imprisoned, tortured, and exiled. Civil society institutions were ground into oblivion. My Conscience: An Exile's Memoir of Burma is U Kyaw Win's compelling account of the bleeding of his homeland by the military. Born during the waning days of colonial rule, he experienced the brutality of Japanese occupation and the heady early days of independence. He studied abroad and acquired the skills that his country would need, but when the military seized power in 1962, he was made stateless and not allowed to return home for forty years. This memoir tells the story of his lifelong efforts to attract international attention to Burma's destruction and to restore freedom to his homeland. Win's memoir chronicles the struggles that he and those who fought for their country's freedom faced. He recounts the giants in Burma's struggle he met in his pursuit. At this historical moment in 2016, it is uncertain whether the elected civilian majority in parliament will take office and if the military will permit a government of the people's choice to rule. This author knows his country and its people well In writing the highlights of the 20th Century and some of the period that precedes it, he uses both his personal history and that of his family to relate how people dealt with the ""passing parade""; how they sometimes made social and political advances and at other times fell back. He draws the reader's attention into the narrative alongside those being discussed or telling the story and makes them feel a part of the story. Once he captures your attention he won't let go. You may have known nothing about Burma when you picked up this book, but when you finish reading it you will want to know more about its past and, more important, its future. --Josef Silverstein, Professor Emeritus, Rutgers University Indonesia and Myanmar share mutual empathy derived from a common struggle for independence from colonial rule. A similar core of cultural heritage binds their nation building aspirations. The challenge to bring unity in diversity brings our nations together. Professor U Kyaw Win, having lived as an exile for over four decades, speaks from his heart of his hopes and aspirations for a brighter democratic future for his homeland. --Dr. Hassan Wirajuda, Foreign Minister of Indonesia, 2001-2009 I think of the author as not only a compatriot but someone I could truly share my life-long feelings of patriotic devotion to our homeland and our people. Although in our Burmese way, being senior age-wise it is incumbent on him to allow me precedence in most ways, I have looked up to him as one of my leading counsellors in our political endeavours ever since I found him as the editor/publisher of The Burma Bulletin in 1973. I was, like him, also exiled in USA but I was given the opportunity to continue work with the democratic forces abroad when the Committee for Restoration of Democracy in Burma was formed in Washington, DC in 1986 by young Burmese expatriate veterans of many battles against the military dictatorship. U Kyaw Win was one of the leading personalities who founded the CRDB of which I became a member. We are now privileged to read about the influence his esteemed parents and family have had on his upbringing and on his achievement of high academic honours and wish him the best that life can bring. --Maung Kin Oung, Author of Who Killed Aung San? In this lively and moving memoir U Kyaw Win, one of Burma's most outspoken opposition leaders, vividly brings home the heavy toll exacted on his nation and family by a half century of rule by a succession of incompetent, brutal and swaggering military dictators. Once one of the most prosperous nations of Southeast Asia, by the beginning of this century Burma earned.