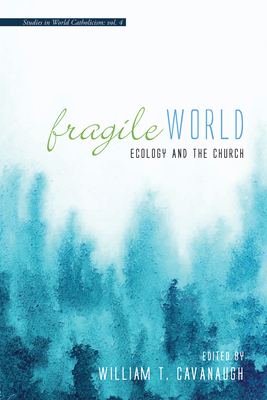 Fragile World (Hardcover)
Cascade Books, 9781498283427, 390pp.
Publication Date: May 22, 2018
Other Editions of This Title:
Paperback (5/22/2018)
* Individual store prices may vary.
Description
In Fragile World: Ecology and the Church, scholars and activists from Christian communities as far-flung as Honduras, the Philippines, Colombia, and Kenya present a global angle on the global ecological crisis--in both its material and spiritual senses--and offer Catholic resources for responding to it. This volume explores the deep interconnections, for better and for worse, between the global North and the global South, and analyzes the relationship among the physical environment, human society, culture, theology, and economics--the ""integral ecology"" described by Pope Francis in Laudato Si'. Integral ecology demands that we think deeply about humans and the physical environment, but also about the God who both created the world and sustains it in being. At its root, the ecological crisis is a theological crisis, not only in the way that humans regard creation and their place in it, but in the way that humans think about God. For Pope Francis in Laudato Si', the root of the crisis is that we humans have tried to put ourselves in God's place. According to Pope Francis, therefore, ""A fragile world, entrusted by God to human care, challenges us to devise intelligent ways of directing, developing, and limiting our power."" ""This book is a necessary and powerful follow-up to Laudato Si, a reminder of just how real and pressing these needs are, and of the opportunities for enormous change that lie all around us."" --Bill McKibben, Author The Comforting Whirlwind ""William T. Cavanaugh offers this stunning collection as a 'global angle on a global crisis.' With contributions from across the world, these perspectives further our understanding of the crisis that unfolds by the hour. The diversity of the contributors is marked not only by their own national backgrounds, but also by their own academic investigations . . . Cavanaugh beautifully organizes these essays beginning with the foundations of social teaching and the cry of the earth. A refreshing collection, a worthy read, an urgent project "" --James F. Keenan, Canisius Professor, Boston College ""This collection blends theology and ethics to produce a scholarly, critical, and pastoral account of the global ecological crisis and the collective responsibility to respond. Rather than yield to despair at the scope of environmental calamity, the authors explore and unveil theological and ethical resources for achieving redemptive and integral ecology for our times and for future generations. Fragile World is a truly global theological and ethical study of the global ecological challenge."" --Agbonkhianmeghe E. Orobator, President of the Conference of Major Superiors of Africa and Madagascar ""Required reading The Church must 'catch up'--and do it now It's been nearly 50 years since the first 'Earth Day, ' (1970) and the 1975 publication of the Appalachian Bishop's Pastoral. Deplorably, only in 2015 did the Church promulgate a Papal Encyclical on the now--'ecological crisis ' . . . This volume is a primer, showing the complexity of the crisis, but also the theological, moral, and spiritual grounding for an integral ecology at the heart of a sustainable world."" --Dawn M. Nothwehr, Chair in Catholic Ethics, Catholic Theological Union ""Fragile World takes seriously the notion of 'integral ecology' as described in Laudato Si'. Its chapters generate an informed, intelligent dialogue among a diversity of voices from around the planet to address the global ecological crisis. Seldom does a reader find in one volume both a clear, critical analysis of this issue as well as so many strong voices from the margins that have too often been ignored. This volume is required reading."" --Dennis Patrick O'Hara, Associate Professor, Elliott Allen Institute for Theology and Ecology, University of St. Michael's College William T. Cavanaugh is director of the Center for World Catholicism and Intercultural Theology and professor of Catholic studies at DePaul University in Chicago. His areas o.