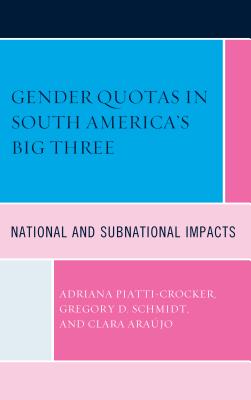 Gender Quotas in South America's Big Three (Hardcover)
National and Subnational Impacts
Lexington Books, 9781498500166, 212pp.
Publication Date: June 7, 2017
* Individual store prices may vary.
Description
Since the return of democracy to Latin America, policies intended to promote the inclusion of women and other underrepresented groups have been increasingly adopted throughout the region. Gender quotas have been one of the most popular and effective mechanisms employed in elections and other contexts in Latin America. This volume begins with an introduction to gender quotas, including discussion of the types and merits of gender quotas, alternative approaches to the study of quotas, and their interactions with different kinds of electoral systems. Successive chapters examine the adoption of gender quotas and their impacts in the three largest South American countries by area--Argentina, Brazil, and Peru--at both national and subnational levels. These chapters also focus on specific topics that stand out in the unique experiences of these countries: substantive representation in the case of Argentina, gender and campaign finance in the case of Brazil, and regional differences in the impact of electoral rules in the case of Peru. Through careful analysis, this volume presents a nuanced picture of how different types of electoral systems may affect the election of women and the effectiveness of quotas.