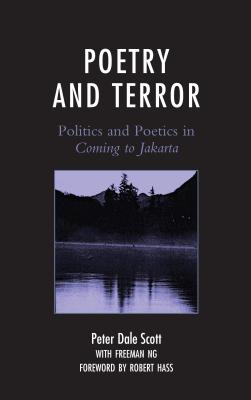 Poetry and Terror
Politics and Poetics in Coming to Jakarta (Asiaworld)
Hardcover

* Individual store prices may vary.
Other Editions of This Title:
Paperback (7/18/2019)
Description
A study at many levels of Scott's long poem Coming to Jakarta, a book-length response to a midlife crisis triggered in part by the author's initial inability to share his knowledge and horror about American involvement in the great Indonesian massacre of 1965. Interviews with Ng supply fuller information about the poem's discussions of: a) how this psychological trauma led to an explorations of violence in American society and then, after a key recognition, in the poet himself; b) the poem's look at east-west relations through the lens of the yin-yang, spiritual-secular doubleness of the human condition; c) how the process of writing the poem led to the recovery of memories too threatening at first to be retained by his normal presentational self, and d) the mystery of right action, guided by the Bhagavad Gita and the maxim in the Gospel of Thomas that If you bring forth what is within you, what you bring forth will save you." Led by the interviews to greater self-awareness, Scott then analyses his poem as also an elegy, not just for the dead in Indonesia, but "for the passing of the Sixties era, when so many of us imagined that a Movement might achieve major changes for a better America." Subsequent chapters develop how human doubleness can lead to an inner tension between the needs of politics and the needs of poetry, and how some poetry can serve as a non-violent higher politics, contributing to the evolution of human culture and thus our "second nature." The book also reproduces a Scott prose essay, inspired by the poem, on the U.S. involvement in and support for the 1965 massacre. It then discusses how this essay was translated into Indonesian and officially banned by the Indonesian dictatorship, and how ultimately it and the poem helped inspire the ground-breaking films of Josh Oppenheimer that have led to the first official discussions in Indonesia of what happened in 1965.
Lexington Books, 9781498576666, 302pp.
Publication Date: August 15, 2018
About the Author
Peter Dale Scott is a poet and author of many books including The American Deep State: Big Money, Big Oil, and the Attack on U.S. Democracy and Coming to Jakarta: A Poem About Terror, and he is co-founder of the Peace and Conflict Studies Program at University of California, Berkeley. Freeman Ng is a former Google software engineer, an author, and an artist.