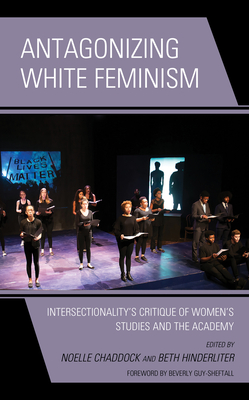 Antagonizing White Feminism
Intersectionality's Critique of Women's Studies and the Academy
Hardcover

* Individual store prices may vary.
Other Editions of This Title:
Paperback (6/23/2021)
Description
Antagonizing White Feminism: Intersectionality's Critique of Women's Studies and the Academy pushes back against the exclusive scholarship and discourse coming out of women-centered spaces and projects, which throw up barriers by narrowly defining who can participate. Vehement resistance to using inclusive language and renaming scholarly spaces like Women's Studies and Critical Feminism expresses itself in concerns that women are still oppressed and thus women-only spaces must be maintained. But who is a woman? What are the characteristics of a woman's lived experience? Do affinity and a history of oppression justify exclusion? This book shows how intersectional feminism is often underperformed and appropriated as a "woke" vocabulary by elite women who are unwilling to do the necessary emotional work around their privilege. As Trans Women, Femmes, Women of Color, Queer Women, Gender Variant, and Gender Non-Conforming scholars emerge, the heteronormative, cisgender, colonial idea of women and the feminine is rapidly under attack. The contributors believe that to engage in the necessary conversations about the oppressed performing oppression is to disrupt the exclusionary basis of monolithic understandings of the feminine. Only then can we advance the coalition needed to forge a multiracial, multicultural, queer-led, anti-imperialist feminism.
Lexington Books, 9781498588348, 184pp.
Publication Date: November 29, 2019
About the Author
Noelle Chaddock is vice president of equity and inclusion at Bates College. Beth Hinderliter is assistant professor of art history and director of the Duke Hall Gallery of Fine Art at James Madison University.