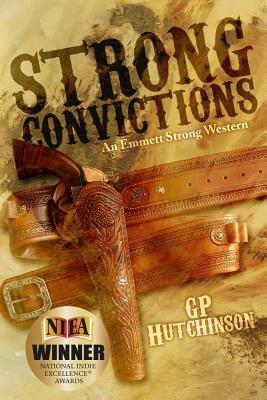 Strong Convictions (Paperback)
An Emmett Strong Western
Createspace Independent Publishing Platform, 9781499151022, 306pp.
Publication Date: February 9, 2015
* Individual store prices may vary.
Description
Crossing ethnic barriers cost Emmett Strong the life of his young wife, Gabriela. When she was shoved into the path of his bullet during a dispute over their love, it was enough to make him think twice before drawing his pistol ever again. Now, he must overcome that hesitation when outlaw Charlie Blaylock shoots Strong's brother dead right in front of him. Strong, now a Texas Ranger, joins up with Gabriela's brother, Juanito, and the Englishman Granville Sikes to catch the killer and bring him to justice. It's a ride that gives them more than they bargained for when they learn that Blaylock is hiding out with wealthy and powerful kin. But justice isn't the only thing Strong is after. He finds love again with Li Xu, a Chinese immigrant's daughter kidnapped by a band of desperados. That's double jeopardy for those who stand in Strong's path, but he must think fast if he plans to both save the girl and avenge his brother. Enjoy the action in Strong Convictions, a fun and entertaining Western by author GP Hutchinson. It's a wild ride through the West with a multiethnic cast and a surprising twist ending.
About the Author
Award-winning author GP Hutchinson is a former high school teacher who now turns his attention to the craft of writing. Hutchinson's passion for Westerns started when he was sixteen years old, when he wrote a research paper titled "The Cowboy in American Literature." His influences include artists Frederic Remington and Charles M. Russell, as well as Western author Elmore Leonard. Hutchinson, a father of three and grandfather of eight, lives in the upstate of South Carolina with his wife and one of his daughters. He is a graduate of Louisiana State University and Dallas Theological Seminary who has also lived and studied in Costa Rica and Spain.