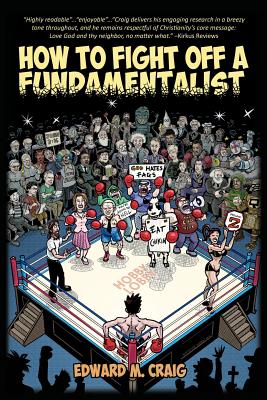 How to Fight Off a Fundamentalist (Paperback)
A Tactical Guide to Calling Out Christian Arrogance, Ignorance, and Hypocrisy
Createspace Independent Publishing Platform, 9781499180060, 338pp.
Publication Date: November 10, 2014
* Individual store prices may vary.
Description
Compassion and humility are among the most basic tenets of Christianity. In modern America, however, it is vengeful, self-righteous Christians who are the most vocal. For the increasingly forgotten moderate Christian, there's a strong chance that evangelical fundamentalists will someday bang on the door, either literally or figuratively. How does one defend himself or herself, and his or her beliefs, from a fundamentalist firebrand?
Edward M. Craig's How to Fight Off a Fundamentalist is filled with rational, common-sense rebuttals to their irrational, sanctimonious arguments. Craig tackles hot-button issues like homosexuality, race, child abuse, war, and environmental degradation with keen insight and disarming humor. He has meticulously researched biblical texts, theology, and church history. He explores the surprising connections between Judaism, Christianity, and Islam. From Manifest Destiny to the Catholic Church's pedophilia scandals to famous televangelist Joel Osteen's megamillions, Craig gives historical and real-life examples of fundamentalist hypocrisy.
Non-Christians will appreciate that his book makes no assumptions about the reader's religious beliefs. Lay Christians will enjoy the amusing illustrations and the in-depth comparisons of the fundamentalist fervency of various Christian denominations on his "Sanctimometer." Even clergymen might learn a thing or two from his dissection of the Bible's contradictions and historical inaccuracies. How to Fight Off a Fundamentalist provides thinking Christians and non-Christians alike a much-needed arsenal against self-righteous ignorance.
About the Author
Edward M. Craig's father shook up his devout Lutheran family when he became a jazz musician, and now the author is ready to shake up the entire Christian world. Craig's new book, "How to Fight Off a Fundamentalist," is a guide for progressive Christians who are tired of the far right's dominance of modern American Christianity. As an attentive Christian, he noticed a growing divide between the faith of his childhood and that of the angry, self-righteous Christians sounding off in the media. He began studying Christian wedge issues and doing biblical research as a means of reclaiming his faith. Craig is an Indiana native and lawyer by profession.