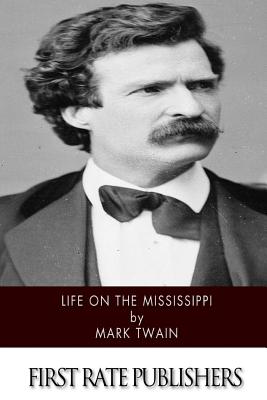 Life on the Mississippi
Paperback

* Individual store prices may vary.
Other Editions of This Title:
Digital Audiobook (12/26/2010)
Digital Audiobook (2/27/2015)
Digital Audiobook (8/10/2020)
Digital Audiobook (7/6/1999)
Digital Audiobook (12/13/2010)
Digital Audiobook (9/10/2014)
Paperback (8/7/2018)
Paperback (11/29/2016)
Hardcover (11/5/2015)
Paperback (11/2/2017)
Paperback (3/24/2015)
Paperback (9/1/2004)
Paperback (3/10/2017)
Paperback (1/23/2015)
Paperback (3/29/2018)
Description
While Halley's Comet lit up Earth's sky in 1835, America's biggest literature star was born. Though Samuel Langhorne Clemens toiled in obscurity as a river boat pilot on the Mississippi and to this day remains a name oft forgotten, that young man became famous around the globe under his unforgettable pseudonym, Mark Twain. Although Twain spent the first 30 years of his life working odd jobs, his printing background, sharp wit, and humor helped establish him first as a journalist and later an author. His writing career took off in 1865 after his humorous short story "The Celebrated Jumping Frog of Calaveras County" was published. Newspapers enamored with his humorous accounts of his travels began hiring him to chronicle his trips through travelogues, such as The Innocents Abroad or The New Pilgrims' Progress and A Tramp Abroad. Twain's meteoric rise in literature took off in the 1870s with the publications of The Adventures of Tom Sawyer and The Prince and the Pauper, novels that demonstrated Twain's versatility, with Tom Sawyer capturing the essence of American childhood along the Mississippi and The Prince and the Pauper providing a biting social commentary that displayed Twain's wit and humor. Those books were followed by Twain's crowning achievement, Adventures of Huckleberry Finn, which combined the whimsical adventurousness of Tom Sawyer with social commentary about American culture and its treatment of blacks. Huckleberry Finn is one of America's best known books and has long been regarded as the first "Great American Novel" Twain kept writing at a breakneck pace in order to attempt to remain financially afloat, but the last two decades of his life were personally and professionally trying. Family problems and the deaths of his wife and daughter near the end of his life made him depressed, and he was forced to declare bankruptcy in 1894, despite being one of the most famous authors in the world. Throughout that time, Twain kept writing everything from fictional accounts about Joan of Arc to book reviews and literary criticisms of other authors, even while dictating his own autobiography. When he died in 1910, the day after Halley's Comet returned, he had finished his life as the man William Faulkner considered "the father of American literature.
Createspace Independent Publishing Platform, 9781499382051, 208pp.
Publication Date: May 7, 2014