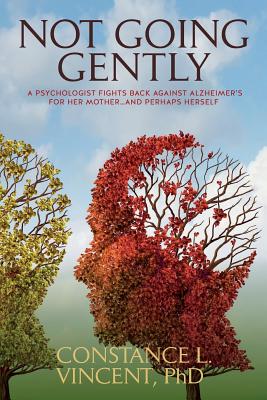 Not Going Gently (Paperback)
A Psychologist Fights Back Against Alzheimer's for Her Mother. . .and Perhaps Herself
Createspace Independent Publishing Platform, 9781499512595, 168pp.
Publication Date: September 25, 2014
* Individual store prices may vary.
Description
A poignant mother-daughter memoir, Not Going Gently fuses story and science together into a unique book. Constance L. Vincent, PhD, shares her mother's personal experience living with Alzheimer's, intertwined with her own professional research into the disease.
Striving to use her skills to protect her mother's mental and emotional health, Dr. Vincent must cope with the fact that she is too late to stop the disease. And as she learns how to care for her ailing parent, she can't help comparing her own age-related memory changes with her mother's. But instead of allowing loss and fear to claim victory over her future, Dr. Vincent chooses love and hope as she educates herself on the disease and studies the latest research.
While most books about Alzheimer's focus on only one aspect of the disease from either a scientific or personal perspective, this book expertly melds the two in an all-inclusive portrait of the disease. And it not only honestly addresses this devastating illness that affects millions of people and their loved ones, but also offers hope through groundbreaking prevention plans.
There are two different paths of aging-and you can choose which one you take.
About the Author
Constance L. Vincent, PhD, a psychologist with expertise on aging, graduated Phi Beta Kappa from Ohio University before earning her doctorate from UC Irvine. She taught developmental psychology first as an associate professor at Chapman University and later at Santa Clara University. As the daughter of a father who suffered from dementia and a mother who has Alzheimer's, Dr. Vincent knows she too carries the potential for these diseases. A long-distance caregiver for her mother, she serves her local community by presenting for the Alzheimer's Speakers Bureau and supporting senior programs through Peninsula Volunteers. Committed to sharing her knowledge about new approaches for early prevention, Dr. Vincent wrote Not Going Gently to educate and encourage readers through her personal story and scientific research. Dr. Vincent and her husband live in Menlo Park, California. They enjoy traveling, attending the opera and symphony, and participating in book clubs. They have a son, four daughters, and twelve grandchildren.