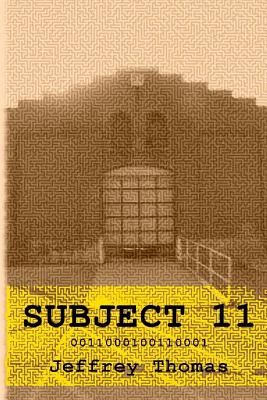 Subject 11
Paperback

* Individual store prices may vary.
Description
Welcome to the Subject 11 project. We are currently seeking 10 individuals to participate in a research study. Participants shall receive a sum to be discussed during initial telephone interview. Interested parties should email us via our contact page, subject11.webs.com, providing their telephone number and a brief biography of approximately 100 words, describing themselves in terms of gender, age, race, and occupation if any. The study will take place in a series of abandoned buildings rented for this purpose. Note: subjects involved in this test may find themselves experiencing certain psychological distortions. They may experience lapses in memory regarding others and themselves. Subjects may even forget how long this test is supposed to go on for. And please disregard any additional people you may feel you've sighted in the complex, beyond those in the test group. We thank you for your interest in our research. "Cutting right to the chase, SUBJECT 11 is one of the best novellas I've read all year. Jeffrey Thomas is at his best in this eerie story following a group of ten people (five women and five men) taking part in a mysterious experiment...The mysteries are enticing, and Thomas brings them together for an ending that is sure to linger long in the minds of readers." - Justin Steele, THE ARKHAM DIGEST.
Createspace Independent Publishing Platform, 9781499516838, 114pp.
Publication Date: May 22, 2014
About the Author
Jeffrey Thomas is an American author of weird fiction, the creator of the acclaimed milieu Punktown. Books in the Punktown universe include the short story collections PUNKTOWN, VOICES FROM PUNKTOWN, PUNKTOWN: SHADES OF GREY (with his brother, Scott Thomas), and GHOSTS OF PUNKTOWN. Novels in that setting include DEADSTOCK, BLUE WAR, MONSTROCITY, HEALTH AGENT, EVERYBODY SCREAM!, and RED CELLS. Thomas's other short story collections include WORSHIP THE NIGHT, THIRTEEN SPECIMENS, NOCTURNAL EMISSIONS, DOOMSDAYS, TERROR INCOGNITA, UNHOLY DIMENSIONS, AAAIIIEEE!!!, HONEY IS SWEETER THAN BLOOD, and ENCOUNTERS WITH ENOCH COFFIN (with W. H. Pugmire). His other novels include LETTERS FROM HADES, THE FALL OF HADES, BEAUTIFUL HELL, BONELAND, BEYOND THE DOOR, THOUGHT FORMS, SUBJECT 11, LOST IN DARKNESS, THE SEA OF FLESH AND ASH (with his brother, Scott Thomas), BLOOD SOCIETY, and A NIGHTMARE ON ELM STREET: THE DREAM DEALERS. Thomas lives in Massachusetts.