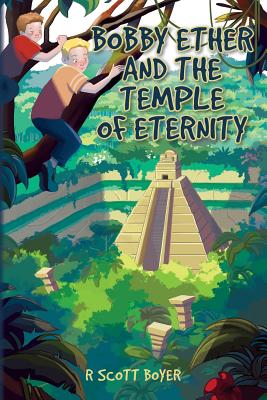 Bobby Ether and the Temple of Eternity
Paperback

* Individual store prices may vary.
Description
Following on the heels of "Bobby Ether and the Academy," author R. Scott Boyer has created another mind-blowing, supercharged fantasy adventure, "Bobby Ether and the Temple of Eternity."
While capturing all the fun and excitement of young-adult fantasy fiction, Boyer adds a new-age, spiritual twist. Bobby Ether is a fourteen-year-old boy from Bayside, California, with a special gift. But his is not the gift of magic or supernatural powers. Rather, his abilities are 100 percent natural. With monks and shamans as his mentors, Bobby explores his capacity to tap into the ethereal energies connecting all living things.
"Bobby Ether and the Temple of Eternity" follows Bobby deep into the jungles of Guatemala, where he must use his gift against the agents of the Core, who have imprisoned a group of children from the Academy inside an ancient Mayan pyramid.
An action adventure that explores the potent power of friendship and love, as well as what it truly means to live forever, Bobby discovers that within the Temple of Eternity lies a mystery shrouded in myth-the legendary Fountain of Youth. But can Bobby find the forces at work behind the fabled fountain in time to save his friends?
Createspace, 9781499558968, 268pp.
Publication Date: September 18, 2014
About the Author
R. Scott Boyer grew up in Santa Monica, California, graduating from the Haas School of Business at the University of California, Berkeley, in 1996. He currently resides in the Los Angeles area, where he splits his time between managing an insurance brokerage, writing, and hanging out with his rescue dog, Patch. He is the author of the innovative Bobby Ether young-fantasy series, into which he incorporates a new-age, spiritual twist. "Bobby Ether and the Temple of Eternity" is the sequel to "Bobby Ether and the Academy." For more information about the author and his writing, visit his website at www.rscottboyer.com.
or
Not Currently Available for Direct Purchase