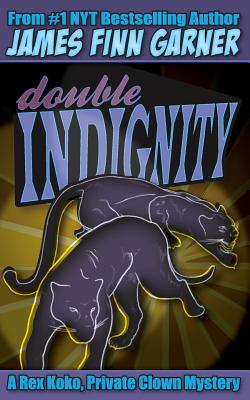 Double Indignity (Paperback)
Createspace Independent Publishing Platform, 9781499650815, 244pp.
Publication Date: May 31, 2014
* Individual store prices may vary.
Description
From the author of the international best-seller Politically Correct Bedtime Stories comes a new mystery genre: Clown noir In Top Town, a ghetto full of washed-up circus lifers in the shadow of a big city, audiences come every night for cheap thrills, both wholesome and not. Fire eaters perform for gin money. Gypsies reveal the future (and for a sawbuck can make it happen). Daredevils cheat Death time after time, but once. And witness to it all is one of the most loved and notorious figures in Top Town, a tough joey with a deadly past and a nose for picking all the wrong fights: Rex Koko, private clown. In Double Indignity, Rex Koko is begged to bring in a runaway lion, but has his shoe eaten in the process. Trying to get repaid for the expensive footwear, he runs afoul of drug-pushing quacks, alligator hypnotists, Amazonian witch doctors and blue-nosed moral crusaders trying to shut down Top Town. Before the second act, menace fills the air like the smell of popcorn, whiskey and fear. The South American jungle was never so dangerous as the tawdry streets of "The next best thing to a circus." It's three rings of danger, suspense and more danger. Lions Lustful ladies Lethal larries As e.e. cummings said, "Damn everything, but the circus
About the Author
James Finn Garner's best known book is "Politically Correct Bedtime Stories," which spent 64 weeks on the New York Times Best-seller list, including six weeks in the top position. The book was also a best-seller in England and Canada, and has been translated into more than 25 languages. Its sequels, "Once Upon A More Enlightened Time" and "Politically Correct Holiday Stories," were also best sellers sold around the world. His most recent work is "Tea Party Fairy Tales," which is available exclusively as a Kindle Single from Amazon. His 2011 novel -- the seminal Clown Noir, "Honk Honk, My Darling: A Rex Koko, Private Clown Mystery" -- was voted Book of the Year (Nontraditional Fiction) by the Chicago Writers Association. This was followed in 2014 by another Rex Koko novel, "Double Indignity." His other books include "Recut Madness: Favorite Films Retold for Your Partisan Pleasure" and "Apocalypse WOW: A Memoir for the End of Time." A former columnist with Chicago Magazine, Garner has broadcast commentaries and stories on National Public Radio and the British Broadcasting Corporation.