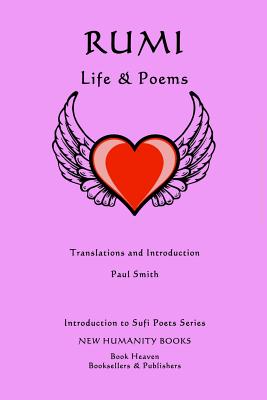 Rumi
Life & Poems
Paperback

* Individual store prices may vary.
Other Editions of This Title:
Paperback (11/1/2012)
Paperback (11/5/2019)
Paperback (8/8/2014)
Hardcover (9/10/2019)
Paperback (1/10/2017)
Paperback (9/1/2006)
Hardcover (4/1/2013)
Paperback (4/6/2015)
Description
RUMI: LIFE & POEMS Translation & Introduction Paul Smith Here is a wonderful, large selection of poems of the great Sufi Spiritual Master of the 13th century, who has become today the most popular poet in the world, Jelal ad-din Rumi. They are powerful, down-to-earth, spiritual and full of joy, bliss and understanding. Included in the Introduction is the life of Rumi and on the ruba'i, the ghazal, the masnavi and the qasida. Selected Bibliography. The correct rhyme-structure has been kept as well as the beauty and meaning of these immortal poems of this Perfect Spiritual Master Poet. 90 pages. Introduction to Sufi Poets Series Life & Poems of the following Sufi poets, Translations & Introductions: Paul Smith AMIR KHUSRAU, ANSARI, ANVARI, AL-MA'ARRI, 'ATTAR, ABU SA'ID, AUHAD UD-DIN, BABA FARID, BABA AZFAL, BABA TAHIR, BEDIL, BULLEH SHAH, DARA SHIKOH, GHALIB, HAFIZ, IBN 'ARABI, IBN YAMIN, IBN AL-FARID, IQBAL, 'IRAQI, JAHAN KHATUN, JAMI, KAMAL AD-DIN, KABIR, KHAQANI, KHAYYAM, LALLA DED, MAKHFI, MANSUR HALLAJ, MU'IN UD-DIN CHISHTI, NAZIR AKBARABADI, NESIMI, NIZAMI, OBEYD ZAKANI, RAHMAN BABA, RUMI, SANA'I, SADI, SARMAD, SHABISTARI, SHAH LATIF, SHAH NI'MAT'ULLAH, SULTAN BAHU, YUNUS EMRE, EARLY ARABIC SUFI POETS, EARLY PERSIAN SUFI POETS, URDU SUFI POETS, TURKISH SUFI POETS, AFGHAN SUFI POETS 90 pages each. Paul Smith is a poet, author and translator of over 150 books of Sufi poets from the Persian, Arabic, Urdu, Turkish, Pashtu and other languages... including Hafiz, Sadi, Nizami, 'Attar, Sana'i, Jahan Khatun, Obeyd Zakani, Nesimi, Kabir, Anvari, Ansari, Jami, Khayyam, Rudaki, Bulleh Shah, Shah Latif, Mansur Hallaj, Yunus Emre, Mu'in, Ibn Farid, Lalla Ded, Mahsati, and many others, as well as poetry, fiction, plays, children's books, biographies and screenplays. www.newhumanitybooksbookheaven.com.
Createspace Independent Publishing Platform, 9781499656961, 110pp.
Publication Date: June 4, 2014