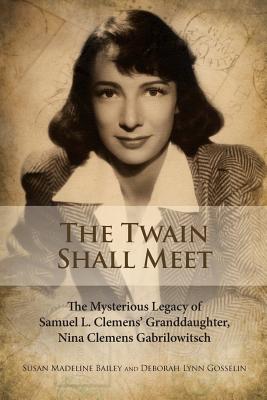 The Twain Shall Meet (Paperback)
The Mysterious Legacy of Samuel L. Clemens' Granddaughter, Nina Clemens Gabrilowitsch
Createspace Independent Publishing Platform, 9781499799491, 354pp.
Publication Date: June 6, 2014
* Individual store prices may vary.
Description
Did famous author Mark Twain's only surviving child, Clara, and her daughter, Nina Clemens Gabrilowitsch, take a life-long secret to their graves? After extensive research, and using techniques from genetic genealogy, The Twain Shall Meet authors believe the answer is a resounding "yes." If you thought you knew everything about Samuel Langhorne Clemens' family, this book will be a page-turning eye opener. This work of nonfiction takes the reader on a mesmerizing and heartwarming journey into the tangled universe of mother-daughter relationships as co-authors Susan Bailey and genealogist and historic researcher Deborah Gosselin seek to uncover the identity of Bailey's mother-a quest that leads them straight into the heart of Clara's and Nina's world.
About the Author
Susan Madeline Bailey Susan grew up in Europe, Florida, and Illinois. Her history is chronicled in the manuscript of The Twain Shall Meet, but there is more to her background and personality. As a child, she was painfully shy, but her inhibitions vanished when she stepped onto a stage. A widow with three children and several grandchildren, she has written poetry most of her life but this is her first book. She graduated from Stetson University in 1969 with a B.A. in Speech and Education. Susan recently returned to the stage, and continues to promote music for children by serving on the board of a youth orchestra. When she's not seeking a standing ovation, she enjoys spending time with her children, grandchildren, and a wealth of friends. She swims, bikes, and is a voracious traveler. Deborah Lynn Gosselin Deb's genealogical research experience spans nearly 40 years and she is happiest when following the threads that unravel a mystery. As owner of Ancestry Helper, a genealogy consulting firm, she has worked on solving family history mysteries all over the US and Canada. Her professional genealogy background has also included serving as an expert with Ancestry.com's Hire an Expert service, and consulting with a nationwide firm that traces heirs for probate cases. A self-described Renaissance woman, Deb also holds degrees in psychology, educational counseling, and engineering. She presently lives in her native state of Michigan where she works as an engineer. She enjoys reading, gardening, and spending time with her large, wonderful, rambunctious family.