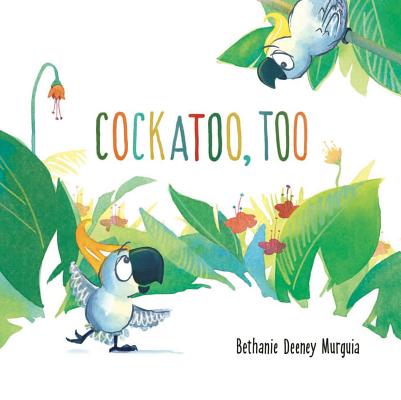 Cockatoo, Too
Hardcover

* Individual store prices may vary.
Other Editions of This Title:
Board book (1/2/2018)
Description
Who can can-can? Find out in this hilarious book that features cockatoos, two more cockatoos, and tutued toucans too!

Cockatoo. Cockatoo two? Cockatoo, too? Two cockatoos! Two cockatoos, too? Cockatoo tutus! Two cockatoos meet two more cockatoos in tutus and two tutued toucans. And then two more! Can they all can-can? They can! The cockatoos and toucans join together for a dance and ask the reader: "Can you can-can too?" Bethanie Deeney Murguia's fabulous book combines fantastically funny wordplay with lush, vibrant illustrations that will make readers want to can-can along!
Praise For Cockatoo, Too…
Some quite extraordinary cockatoos and toucans meet and greet each other in a fun-filled romp. These exotic birds seem to accept and embrace eccentricity. One cockatoo looks up and spots another drifting down from the trees, greeting it as a new friend. When a second pair of cockatoos arrives wearing tutus, they generously gift the original pair with matching costumes. The silliness continues with toucans in tutus doing the cancan and inviting the cockatoos to dance. Soon the invitation is extended to owls and cuckoos, with at least one opting out of the madness. Murguia tells this slightest of tales in the sparest of language, employing six words multiple times in various combinations and including only a few others, resulting in delightful tongue twisters that will challenge adult readers and induce giggles galore in little ones. The text appears in large, widely spaced type on a white background at the bottom of double-paged spreads that are filled with bright green foliage and a cast of goofy-looking birds (and their tutus). The birds convey puzzlement, surprise, and joy with just a few subtle changes in their beaks and eyes. Readers will need sharp eyes to spot cockatoos descending from the trees and toucans emerging from bushes, with a surprise on the back cover. It's all delightfully hilarious. Sure to become a read-aloud favorite. (Picture book. 2-7)
— Kirkus Reviews in a STARRED REVIEW

Murguia's (<i>I Feel Five!</i>) featherlight divertissement blends elegant artwork and wordplay to ponder. The setting: a jungle of blue-green fronds and exotic flowers. Layers of foliage fade toward the back, creating a sense of misty depth. The star is a small cockatoo-sad-eyed and stumpy-legged, with an orange crest and a beak like a droopy moustache. "Cockatoo," it announces, facing front and raising its wings in introduction. A page turn reveals two legs descending from the top of the page as the cockatoo looks up suspiciously. The new arrival, also a cockatoo, has a yellow crest. "Cockatoo, too?" "Two cockatoos!" they cry, joining wings and taking a dance step. Two more sets of legs appear. "Two cockatoos, too?" The punning continues as tutus are donned for a performance, and the arrival of a line of dancing toucans pushes the wordplay still further: "Tutued toucans can-can."
— Publishers Weekly
little bee books, 9781499801026, 40pp.
Publication Date: January 5, 2016
About the Author
Bethanie Deeney Murguia graduated from the School of Visual Arts in New York City with an MFA in Illustration and has created numerous picture books, including Zoe Gets Ready, Snippet the Early Riser, and I Feel Five. She now lives in the San Francisco Bay area with her two daughters and her dog Disco. To learn more about Bethanie, please visit her website: aquapup.com.
or
Not Currently Available for Direct Purchase