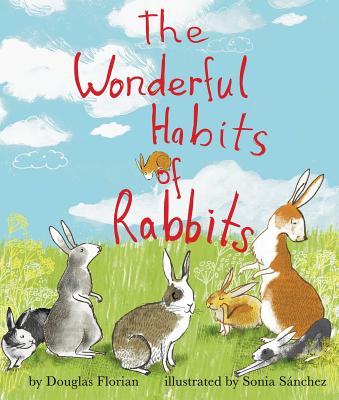 The Wonderful Habits of Rabbits (Hardcover)
little bee books, 9781499801040, 32pp.
Publication Date: February 2, 2016
Other Editions of This Title:
Board book (1/16/2018)
* Individual store prices may vary.
Description
Follow one family of rabbits as they do all their favorite things in this sweet, poetic story from award-winning author Douglas Florian.

The habits of rabbits are many, not few, with plenty of things that they love to do! This sweet, lyrical story by Douglas Florian follows a family of rabbits as they have fun doing everyday things like digging holes, building snow rabbits, thumping their feet, and more. But as the day comes to an end, their favorite thing to do is say "goodnight" with a hug and a kiss.
About the Author
Douglas Florian is the award-winning author/illustrator of numerous children's books including Donthesaurus, a Kirkus Reviews Best Book of the Year; Bow Wow Meow Meow, a Parents magazine Best Book of the Year.He is also a fine artist and former cartoonist for the New Yorker. He lives in Long Island, New York.
Praise For The Wonderful Habits of Rabbits…
In this title, Florian creates a rhythmic and rhyming tribute to rabbits. Unlike the bees in his <i>UnBEElievables: Honeybee Poems and Paintings</i> (S. & S., 2012), the habits in this title are imaginary, though Sánchez's layered paintings create a world so well matched to the poetry that readers probably won't notice. These rabbits have habits that are "many, not few, with plenty of things that they love to do," including waking early, leaping and creeping, smelling flowers, and swimming for hours, ending their day the way many storybook bunnies do, all cozied up and tucked into bed. Florian's expert rhyming couplets make it easy for young readers to predict the ending words even when the action is not exactly predictable. Sánchez's free-form rabbits explore their environment on spreads that mirror the action in the rhyme and provide a sense of the day's rhythm. Perfect for a lap-sit, this title works well for preschool and primary-aged storytimes and, with every rabbit different from the next, provides plenty of details for kids to pore over. VERDICT: A playful and appealing choice.
— School Library Journal in a STARRED REVIEW

Florian's whimsical poem is set against a plethora, indeed a veritable multitude, of rabbits. These bunnies come in many colors and shapes and sizes and, frankly, occasionally resemble animals not of the cony sort (children will be forgiven for wondering why the occasional kangaroo is playing with the bunnies). But their activities are not exactly bunnylike either, such as enjoying the smell of flowers (while eating same, with a napkin tied neatly around the neck) or building a snow bunny in winter, to say nothing of being tucked in "with a hug and a kiss." The bouncy rhyme goes along happily with occasional rabbity thumps, which is as it should be. Though ostensibly about rabbits, of course, it's really about children, and young readers and listeners will no doubt cotton on to the iteration of their own habits right away. The colors are soft and muted, with the occasional pop of bright red or orange. Working with gouache and then Photoshop, Sánchez takes advantage of the media to play with texture, juxtaposing small, scratchy lines with soft, blurry edges to create a countryside with just as much energy as its hopping inhabitants. The rabbits themselves are a happy combination of colors and patterns, a bounty of domestic bunnies let loose against the green. Small and friendly.
— Kirkus Reviews

What do rabbits do all day? Florian (<i>Pig Is Big on Books</i>) offers a playful list of pursuits, from racing across meadows to building snow rabbits, in a jaunty book-length poem. Readers follow a herd of rabbits from morning till night, season to season, as they explore, play, and swim ("There's leaping and creeping and digging up holes./ There's frightening frogs and discovering moles"). Such full days guarantee that the rabbits are ready to settle in back at home: "One habit of rabbits that's not to be missed.../ is saying 'goodnight' with a hug and a kiss." The energy of Florian's verse flows from quiet to spirited and back again, in a singsong rhythm well-suited to bedtime storytelling. In mixed-media paintings employing fluid black lines and occasional doodlelike squiggles, Sánchez (<i>Here I Am</i>) creates a sunny, verdant naturescape of wispy grasses, trees, and rolling clouds. The closing spreads, awash in inky darkness and featuring a drowsy rabbit crew, provide a visual wind-down to sleep, fully in step with the text. Ages 4-8
— Publishers Weekly