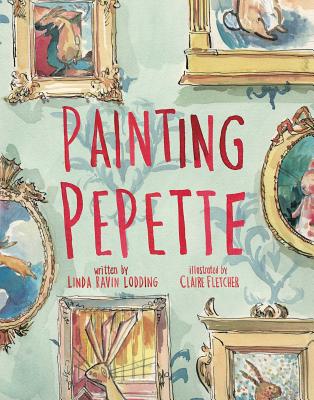 Painting Pepette
Hardcover

* Individual store prices may vary.
Description
Join one little girl named Josette as she searches 1920s Paris to find the best artist to paint a portrait of her stuffed-animal rabbit, Pepette.

After seeing all the fine portraits of her family in her house in Paris, Josette decides that her stuffed-animal rabbit Pepette needs a portrait of her own. The two of them set off for Montmartre, the art center of 1920s Paris, to seek out an artist to paint Pepette's portrait. They encounter Pablo Picasso, Salvador Dalí, Marc Chagall, and Henri Matisse, who all try their hand at capturing the rabbit.

Picasso gives Pepette two noses and three ears-which doesn't sit well with Josette. Dalí gives Pepette very droopy eyes-so Josette says "no thank you" and moves on. Chagall paints Pepette flying through the clouds. Josette points out that Pepette doesn't fly and is afraid of heights-so they decide to keep going through the square. When they meet Matisse, he paints Pepette pink, with lots of colorful dots and splashes covering the canvas. It's a beautiful piece of art, but it's not Pepette.

Giving up, Josette and Pepette make their way home. Josette is upset that no one was able to no one was able to capture the true essence of Pepette. Who could capture her soft gray ears, her heart-shaped nose, and all her wonderfulness? And then it comes to her-she, Josette, is the perfect person to do this.
Praise For Painting Pepette…
Josette Bobette, of #9 Rue Laffette, and her beloved pet rabbit, Pepette, have a big problem: of all the family portraits in the Bobette great room-from stoic grand-mere and grand-pere to froufrou family schnoodle, Frizette-Pepette's is nowhere in sight. Determined to find an artist who can perfectly capture Pepette's brilliance, Josette and her bunny take to the bustling Montmartre of 1920s Paris. There they stumble upon four unnamed but prominent artists-can you guess who? The first, intrigued by Pepette's "majestic ears," reimagines the rabbit with three of them, all sharply geometric, as well as two noses and whiskers as wide as the canvas. The second, a distinctly mustachioed man, pleads to paint "the very essence of her rabbitness," and in his final product, Pepette's elongated body droops from a square surface. A third painter, astonished by the bunny's nose-"like a faint star"-portrays Pepette soaring through clouds. Finally, a fourth, bespectacled painter envisions a rosy Pepette against a color-splashed backdrop. It isn't until Josette gently chides the artist's vision ("Pepette isn't pink.") that she learns a most important lesson. Fletcher's illustrations are subtle, sweet, and sprawling, and each artist's exuberant declarations are ideal for reading aloud. Just as Pepette's portrait belongs in the Bobette's great room, this belongs on any bookshelf. Brief back matter explains the famous-artist cameos.
— Booklist in a STARRED REVIEW

Josette Bobette and her rabbit, Pepette, lived at #9 Rue Laffette, Paris." So begins Painting Pepette, the irresistible story of a girl who is so attached to her stuffed rabbit she's convinced her portrait deserves a spot in the family gallery along with "grand-mére and grand-pére."

She takes Pepette to Montmartre, to the famous Parisian square "where the best artists in Paris painted." A man who is Picasso (identified inside the front cover and in the author's note but not in the story itself) spots her beloved rabbit and exclaims, "THOSE EARS!" Amusingly, he proceeds to paint Pepette with two noses and three ears. The three-eared portrait is hilarious... and not to Josette's taste at all... "And Pepette had to agree." A man with a bicycle-handlebar moustache stops to gaze at Pepette: "Please, I must paint the very essence of her rabbitness!" This is Dali. His portrait of the rabbit shows her draped bonelessly over a block, and is too "droopy" for Josette... "And Pepette had to agree." Chagall paints a flying-cloud rabbit (but Pepette is scared of heights!) and Matisse makes her too... pink. In the end, Josette knows just what she needs to do to capture her rabbit's "wonderfulness," her soft gray, listening ears and heart-shaped nose. She has to paint the portrait herself: "And Pepette had to agree."

Claire Fletcher's comical, endearing pen-and-ink and watercolor illustrations have a shimmering-melting quality that enchantingly enhances Linda Ravin Lodding's deliciously told story, a brilliantly accessible take on the nature of artistic interpretation. As Matisse tells Josette, "But through art we can see the world any way we want." Not to be missed.
— Shelf Awareness in a STARRED REVIEW

Little Josette Bobette and her beloved rabbit, Pepette, live happily together in 1920s Paris. Their favorite activity is cuddling in a beautiful room full of portraits of Josette's family. One day, Josette realizes that Pepette is not represented on the wall. The two set out for Montmartre, where all the best artists in Paris paint, to procure a portrait for Pepette. After encountering four famous artists who paint the rabbit beautifully but in their individual styles, Josette takes matters into her own hands, creating the perfect portrait to hang on the wall. A brief author's note identifies the artists (Pablo Picasso, Salvador Dalí;, Marc Chagall, and Henri Matisse) and discusses the artistic culture of the time. Lovely watercolor illustrations in a subdued but colorful palette are well suited to a sweet story that textually and visually depicts the enchanting ambience of Paris. Introducing readers to the unique styles of these masters, the story works whether used as a jumping-off point for learning about painters or simply as one-on-one pleasure reading. Josette is reminiscent of Madeline, skipping around the streets of Paris with a bow on her head. VERDICT: There's plenty of charm and whimsy in this gentle tale. A good general purchase for one-on-one and small group sharing.
— School Library Journal

Seeking a formal portrait of her rabbit, a Parisian girl meets several artists. Josette's upper-class home has portraits of all her family members (all white, and none of whom appear otherwise), but there's no portrait of Pepette, the stuffed rabbit she carries everywhere. Josette walks to Montmartre, the bustling outdoor square "where the best artists in Paris painted." Four adult male artists try their hands at painting Pepette. One gives her two noses and three ears; one makes her look droopy; one shows her flying through the sky; and the final one, to Josette's confusion, sees Pepette as being brightly colored. This is the 1920s, and adults will recognize the painters as Picasso, Dalí, Chagall, and Matisse. Here Fletcher misses an opportunity: while each portrait does feature known traits of its master-in addition to having extra features, Picasso's cubist Pepette is angular, for instance-;the portraits' styles and colors don't jump off the page as distinct from the illustrations overall. Confusingly, Matisse's Pepette isn't even really pink, as the text claims she is-she's nearly the same color as her most accurate portraitist shows her to be, when that person reveals herself. Still, the illustrations are lovely, using daubed and layered watercolors with loose lines to create light, airy scenes that invite long savoring. A mild introduction to painting masters' styles, with elegantly appealing artwork of its own. (author's note) (Picture book. 4-8)
— Kirkus Reviews

Lodding (<i>A Gift for Mama</i>) and Fletcher (<i>Look at Me, Grandma</i>) transport readers to 1920s Paris as a girl and her cherished stuffed rabbit, Pepette, pay a visit to the bustling Montmartre district. Perusing the family portraits in her Parisian home, Josette decides that Pepette deserves a portrait of her own. In Montmartre, several (now-well-known) painters declare their infatuation with Pepette and ask to recreate her likeness on canvas, but the results don't please Josette-or Pepette. Picasso gives the rabbit three ears and two noses, Dalí renders her "droopy," Chagall sends her flying through the clouds, and Matisse paints her pink, insisting that "through art we can see the world any way we want." Unimpressed, Josette taps into her own creativity to paint Pepette herself. Fletcher's paintings have a loose, dappled quality as she elegantly evokes the fictional characters, the real-life artists, their work, and Paris itself. The artists are not identified in the book, only mentioned in passing in an author's note, so adult readers will likely need to provide context. Ages 4-8.
— Publishers Weekly
little bee books, 9781499801361, 40pp.
Publication Date: June 7, 2016
About the Author
Linda Ravin Lodding is originally from New York, but has spent the past 15 years in Austria, The Netherlands, and now Sweden. Today she lives in Uppsala with her wonderful husband and daughter. Linda graduated from Barnard College, Columbia University, and has an MBA from New York University's Stern School of Business. When Linda isn't writing, she's usually working for the United Nations as a media and public information specialist—or eating heavily frosted cupcakes. To learn more about Linda, visit her at lindalodding.com, on Facebook, and on Twitter @lindalodding.

Claire Fletcher studied graphic design and art at Central School of Art and Design, Kingston University, and the Royal College of Art. She is the co-founder and director of Made in Hastings, a shop selling locally sourced gifts and artwork in Hastings, England. Find out more about Claire at clairefletcherart.com.