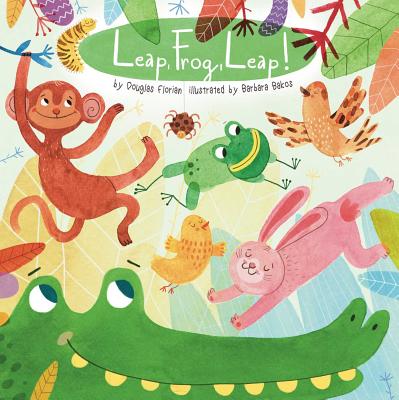 Leap, Frog, Leap! (Animals Play) (Board book)
little bee books, 9781499801422, 18pp.
Publication Date: May 3, 2016
* Individual store prices may vary.
Description
Join these animals as they leap, crawl, race, and sing in this playful board book by award-winning author Douglas Florian.

Leap, frog, leap!

Creep, caterpillar, creep!

In this playful, rhyming story by award-winning author Douglas Florian, join these animals as they do what they do best! Watch a frog leap, a caterpillar creep, a rabbit race, a cheetah chase, a hen peck, a turtle trek, a sparrow sing, a monkey swing, a crab crawl, a crow call, a gull soar, a bear explore, a spider spin, a crocodile grin, and a chick peep! At the end, a child sleeps with all the animals surrounding him.
About the Author
Douglas Florian is the award-winning author/illustrator of numerous children's books including Donthesaurus, a Kirkus Reviews Best Book of the Year; Bow Wow Meow Meow, a Parents magazine Best Book of the Year.He is also a fine artist and former cartoonist for the New Yorker. He lives in Long Island, New York.
Praise For Leap, Frog, Leap! (Animals Play)…
An exploration of animal actions in rhyme. Veteran Florian's catchy verse makes this one bounce along: "Leap, frog, leap! / Creep, caterpillar, creep!" The skillful illustrations are playful and filled with amusing details. A blissful pink bunny bounds along ("Race, rabbit, race!"), oblivious to the fierce-eyed, sharp-clawed cat that pursues him ("Chase, cheetah, chase!"). The trekking turtle sports a backpack, a straw hat, and a supremely satisfied smile as it ambles along. In the final image, a pink-skinned child slumbers in a hammock ("Sleep, child, sleep!") with all of the animals that have appeared so far clustered around protectively. Companion title <i>Once I Was a Pollywog</i> introduces the juvenile and adult names of animals in rhyme: "Once I was a cub / but now I am a bear. // Once I was a leveret / but now I am a hare." Simple, clever verse and enchanting illustrations make both of these selections sure bets for toddlers and preschoolers. Librarians, teachers, and caregivers will want this and its companion in their board-book collections. (Board book. 2-5) (Once I Was a Pollywog: 978-1-4998-0141-5)
— Kirkus Reviews in a STARRED REVIEW

Florian's newest board books offer cheery introductions to the natural world for preschoolers and toddlers. <i>Leap, Frog, Leap!</i> combines action verbs with animals, with phrases such as "Race, rabbit, race!" and "Spin, spider, spin!" <i>Once I Was a Pollywog</i> focuses on the names of baby animals and what they grow up to be ("Once I was a cub...but now I am a bear."). Each book concludes with a human character-<i>Leap, Frog, Leap!</i> with a child sleeping and <i>Pollywog</i> with a baby who grows up into a boy. Both titles use rhymes and succinct text to help create a bouncy, simple rhythm for young readers to enjoy. Bakos's illustrations are bright and colorful, especially on the glossy board book pages, matching Florian's sprightly narrative. Even more dangerous animals, like a cheetah and an alligator, are drawn as warm, jovial, friendly characters rather than as scary or menacing, making the illustrations further suitable for preschoolers. In <i>Pollywog</i>, Florian offers some different creatures and terms with which children may not be as familiar, such as a leveret, which becomes a hare, and a gosling, which becomes a goose, providing more potential learning opportunities for young readers. VERDICT: With vivid, lively illustrations; simple, direct writing; and plenty of adorable animals, this pair of titles will be strong choices for any board book collection.
— School Library Journal

Short, slightly tongue-twisting exclamations celebrate movement across the animal kingdom in this exuberant rhyming board book. "Race, rabbit, race!/ Chase, cheetah, chase!" writes Florian as a pink bunny skips away from a green-eyed cheetah; they look more like they're playing tag than in predator-and-prey pursuit. (Later, though, two fish look a bit glum, caught in the talons of some soaring gulls). But the overall mood is one of gleeful fun, and the animals' destination is revealed in the closing scene of a baby napping in a hammock. How he can sleep amid all the activity is anyone's guess.
— Publishers Weekly in a STARRED REVIEW