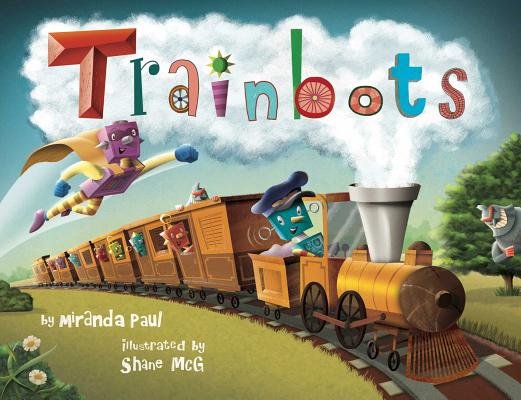 Trainbots
Hardcover

* Individual store prices may vary.
Other Editions of This Title:
Paperback (11/23/2021)
Description
Trainbots are getting ready to make and deliver toybots for kids to play with, but it looks like the Badbots are sneaking and scheming to sabotage the delivery in this moving, grooving picture book!

Trainbots boarding, how rewarding!

Trainbots zooming,

unassuming...

Badbots peeking, sneaking, scheming,

hopping, dropping—Badbots teeming!

These Trainbots are getting ready to make and deliver toybots for kids to play with! They're drawing, sawing, and building to get the toybots ready to send, but it looks like the Badbots are sneaking and scheming to sabotage the delivery! Luckily, the Trainbots draft and craft and engineer and rockateer to outsmart the misbehaving Badbots. And once the toybots are delivered, the kids become their FRIEND-bots 'til-the-end bots!
Praise For Trainbots…
Look at those Trainbots go! They're busy getting the Toybots prepared for delivery to all the Boybots and Girlbots who are waiting for them. There is so much to do! The Trainbots saw, hammer, build, and hitch the train cars together. Finally, the platform is ready, caboose is in the back, and the train is on the track. All Trainbots board the train and start zooming to Kids Town. But trouble is lurking about as the Trainbots set out for their destination. The Badbots are calculating a way to sabotage the Trainbots. Those misbehaving Badbots are scheming, peeking, and dropping. Panic escalates as the engine stops and pieces pop! Have the Badbots outsmarted the Trainbots' plan? The Trainbots don't fret for long. They begin to devise a method to get the train back on the tracks and deliver the Toybots to everyone in Kids Town. The ending will make young children cheer for the heroes. This delightful, simple story is told in a fun rhyme that makes it a great read-aloud. The text is arranged perfectly so the illustrations are the main focus. The colors are vibrant and sharp. The illustrations are large and detailed-but not so much so that they are overwhelming. The size of the pictures and text makes this a perfect book for storytime. The Trainbots are expressive and have personality. Even though the Badbots do have a mischievous appearance, they are not too evil-looking for younger children. VERDICT: The surefire combination of trains and bots make this a great selection for library collections and program planning.
— School Library Journal

Trainbots are trying to make a delivery of toybots to children, but the misbehaving badbots are doing all they can to sabotage the train. With inventive rhymes and colorful, action filled illustrations, <i>Trainbots</i> delivers fun to young children as surely as the title characters deliver toys to girls and boys. Most appropriate for ages 4 to 8, the book is likely to expand young vocabularies while entertaining kids with a silly story and amusing artwork.
— Foreword Reviews
little bee books, 9781499801675, 32pp.
Publication Date: June 7, 2016
About the Author
Miranda Paul is an award-winning children's author who has worked as a freelance writer, teacher, volunteer zookeeper, and more. She began writing in elementary school, thanks to her wonderful teachers. She also enjoys science, trivia, and board games. Most of Miranda's heroes are ordinary people who do extraordinary things—including her own kidbots who invent all kinds of gadgets with their super-handy dad. When she's not traveling, you can find Miranda chugging around in Green Bay, Wisconsin, or online at mirandapaul.com.

Shane McG has been drawing ever since he can remember. When he was a kid he loved to draw cars, robots, and planes--and he still does! At school he created his own comic strips, and now he makes picture books, magazine illustrations, and cartoons for people all around the world. He lived in London for a very long time and traveled to lots of interesting places, but now he resides in his hometown of Melbourne, Australia, with his partner. He loves to run, play tennis, sing in a "groovy" Pop choir, and eat gluten-free cake. Find out more about Shane at shanemcgworld.com.
or
Not Currently Available for Direct Purchase