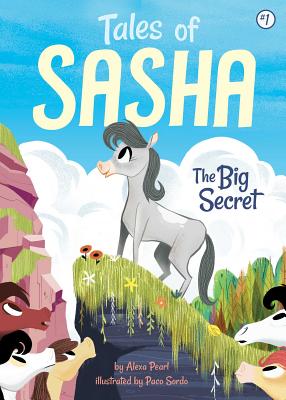 Tales of Sasha 1
The Big Secret
Paperback

* Individual store prices may vary.
Other Editions of This Title:
Hardcover (1/3/2017)
Description
In the first book of the Tales of Sasha series, a young horse named Sasha discovers a big secret about what makes her different from her friends and family.

Sasha has always felt a little bit different from the other horses in her home of Verdant Valley. She loves running and jumping and the feeling of being in the air, and she longs to explore the forest beyond her valley.

One day during class, the white patch on Sasha's back gives her an itching feeling that makes her want to soar, and she leaps over a big rock. When she lands, she realizes that her patch is sparkling! But what does it mean? Find out in the first book of this magical new series!
Praise For Tales of Sasha 1: The Big Secret…
A young horse discovers the magical reason why she doesn't fit in. Sasha isn't like the other horses in her herd. She loves running and craves adventure more than the others, especially her ladylike older sisters. She struggles in school with an "itchy feeling" of anticipation, which leaves her fidgety, unable to stay still or pay attention. As much as she tries to behave, she can't fight her desire to run and jump-especially to jump. When the white patch on her back, the itching's source, begins to sparkle, she goes to her parents for answers and gets more than she expected. Sasha was adopted; she joined their family as a newborn when, during a huge thunderstorm, a blast of sparkling rainbow lightning left Sasha behind with a letter asking her parents to take care of her. Wanting to know more, Sasha and her best friend go hiking at the mountain where her parents found her. Near the top of the mountain, an accidentally-too-enthusiastic jump launches Sasha off the mountain-whereupon she sprouts wings from her white patch and flies. Energetic readers will relate to Sasha's manic, kinetic energy and envy her flight abilities. The sequel, <i>Journey Beyond the Trees</i>, releasing simultaneously, continues bold Sasha's quest for answers as she travels in search of her kind. Gentle black-and-white art emphasizes the horses' expressive eyes and manes. Sweet and spunky. (Fantasy. 6-8)
— Kirkus Reviews

This first book in the Tales of Sasha series focuses on a horse who doesn't fit in with her fellow equines. Sasha loves to run and longs to explore beyond the confines of Verdant Valley. Her displacement begins to make more sense after her parents reveal that they originally found her during a rainstorm-and after she sprouts giant wings from her back. Smoothly incorporated into each page, Sordo's black-and-white artwork (not all seen by PW) has a fresh, cartoony look that feels squarely aimed at fans of My Little Pony: Friendship Is Magic. The story's straightforward language is well-crafted for beginning readers, and what the story lacks in humor it makes up for with adventure, particularly during Sasha's accidental plunge off a mountain when her wings make their first appearance. Available simultaneously: <i>Journey Beyond the Trees.</i> Ages 6-8. Illustrator's agency: Advocate Art. (Jan.)
— Publishers Weekly
little bee books, 9781499803891, 112pp.
Publication Date: January 3, 2017
About the Author
Alexa Pearl is the author of more than forty children's books. She lives in New Jersey with her family.

Paco Sordo is a comic artist, animator, storyboarder, and background artist based in Spain. He has done work for advertising, magazines, newspapers, and TV--including Nickelodeon. Visit him online at pacosordo.com.