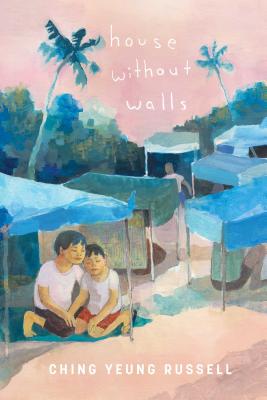 House Without Walls
Hardcover

* Individual store prices may vary.
Description
"A moving and thought-provoking picture of a refugee experience filled with both tragedy and hope."--School Library Journal

For most people, home is a place with four walls. It's a place to eat, sleep, rest, and live. For a refugee, the concept of home is ever-changing, ever-moving, ever-wavering. And often, it doesn't have any walls at all.

Eleven-year-old Lam escapes from Vietnam with Dee Dee during the Vietnamese Boat People Exodus in 1979, when people from Vietnam, Laos, and Cambodia fled their homelands for safety. For a refugee, the trip is a long and perilous one, filled with dangerous encounters with pirates and greedy sailors, a lack of food and water, and even the
stench of a dead body onboard. When they finally arrive at a refugee camp, Lam befriends Dao, a girl her age who
becomes like a sister-a welcome glimmer of happiness after a terrifying journey.

Readers will feel as close to Lam as the jade pendant she wears around her neck, sticking by her side throughout
her journey as she experiences fear, crushing loss, boredom, and some small moments of joy along the way.

Written in verse, this is a heartfelt story that is sure to build empathy and compassion for refugees around the world
escaping oppression.
Praise For House Without Walls…
"Lam is an 11-year-old Chinese Vietnamese girl who, along with her seven-year-old brother Dee Dee, becomes part of the Boat People Exodus in 1979 Vietnam. They are leaving behind their ma and ah mah to join their baba in America. Lam describes their harrowing journey, detailing their deteriorating conditions and daily fears on the boat, as well as their experiences at refugee camps in Malaysia and Indonesia. Readers will share the children's emotional highs and lows, and witness both the ugliness and beauty of humanity. Told in beautifully written verse from Lam's perspective, this story is a combination of the real-life Lam's journey, accounts told to the author by other refugees, and a bit of imagination. There is a map for context at the beginning of the book and a glossary, with several of those terms italicized throughout. VERDICT A moving and thought-provoking picture of a refugee experience filled with both tragedy and hope."
— School Library Journal
Yellow Jacket, 9781499808759, 336pp.
Publication Date: June 18, 2019
About the Author
Ching Yeung Russell is a seasoned, award-winning author of many middle grade novels, including First Apple, Tofu Quilt, and Bungee Cord Hair. She was raised in China, where she was inspired to write after being told by her friend that she could eat more bowls of "dan lai"-a hard-to-get, sweet-milk custard she loved-if she became a successful writer. Ching has been friends with the real-life Lam and Dee Dee since 1986. She combined their refugee journey with the details and stories she heard while visiting a Vietnamese refugee camp in Hong Kong.