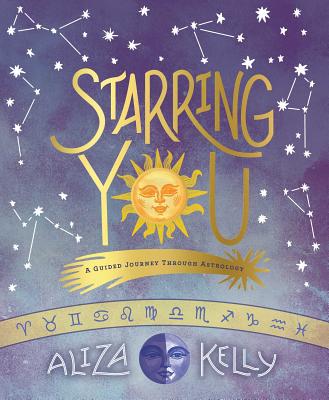 Starring You (Paperback)
A Guided Journey Through Astrology
BuzzPop, 9781499809671, 96pp.
Publication Date: June 11, 2019
* Individual store prices may vary.
Description
Begin your journey through the stars with this interactive and essential guide to astrology from Aliza Kelly.

Welcome, cosmic warrior!

Astrology is the ultimate personality quiz. For centuries, it has helped people uncover secret strengths, hidden talents, and core truths. Now, star astrologer Aliza Kelly is putting the cosmic practice in your hands in a beautiful and personal guide.

Follow the instructions to find your sign, gain wisdom from the planets, and understand your place in the zodiac. As you learn about yourself, you'll deepen your connections to your friends, family, and even crushes.

Plus, you'll learn what to do when everything goes haywire--aka Mercury's retrograde.

Use the reflection activities to bring your practice to life. They'll guide you to your true self and encourage you to fill the pages with your discoveries. After all, the most important step in becoming an astrologer is observing how the cosmos affects you.

This guide covers:
-The History of Western Astrology
-The Twelve Signs of the Zodiac
-Sun Signs
-Secret Signs
-Personal and Outer Planets
-Moon Phases
-Eclipses
-Retrogrades
-and how to use astrology in daily life!

Maps, a time line, an index, and gorgeous illustrations make this full-color guide the perfect introduction to astrology and a beautiful cosmic portrait of you!
About the Author
Aliza Kelly is a New York City-based astrologer and writer. Aliza is the author of two books, The Mixology of Astrology: Cosmic Cocktail Recipes for Every Sign and Starring You: A Guided Journey Through Astrology. Aliza's horoscopes and columns appear in Cosmopolitan, and her work has been featured in Allure, Vogue, Paper, Bustle, Refinery29, HuffPost, and Girlboss. In her private practice, Aliza hosts monthly workshops and provides chart reading for clientele. She can be found at alizakelly.com.