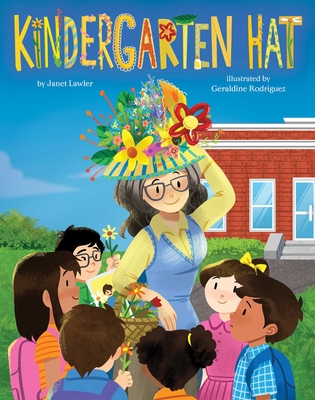 Kindergarten Hat
Hardcover

* Individual store prices may vary.
Description
Carlos Abredo is scared to start kindergarten, but a special teacher with an amazing hat helps give him the confidence to start the school year with a smile.

"A practically perfect first-experience story, especially for anxious hearts and gentle spirits." Kirkus Reviews, STARRED REVIEW

"Jewel-toned pictures echo the sweet simplicity of Lawler and Rodriguez's tribute to an intuitive teacher." Publishers Weekly

Carlos Abredo loves building forts, playing soccer, vrooming cars, and gardening. But after moving to a new town, he's nervous to start his first day of kindergarten. What if the bus gets lost? What if he can't make friends? What if he can't find his teacher?! Starting school can be intimidating for anyone, but when you're also the new kid, it can be downright scary.

When Carlos gets a letter from his new teacher, he starts to feel a little better. He picks out a gift for her, and after a much-needed hug from Mom, he sets off for his first day. But when his present is accidentally ruined, will Carlos be able to salvage his first day of school?
Praise For Kindergarten Hat…
First-day jitters are conquered with gentleness, empathy, and a kind smile in this sweet back-to-school tale.
Carlos is anxious about the start of kindergarten, unsure of what to expect and full of what-ifs. Then his new teacher, Mrs. Bashay, sends a welcome letter with two important instructions: send "a photo of you doing something you love," and bring a flower to add to her big flowered hat on the first day of school. After much deliberation, Carlos decides to share a photo of himself and his beloved garden. The same garden is the source of a big bright daisy to add to Mrs. Bashay's hat on the first day of school. But then, disaster! En route to school the happy little daisy is accidentally dismantled, along with Carlos' verve. What can Carlos contribute now? Fortunately, Mrs. Bashay is as warm and welcoming in person as she was in her letter, and with a little bit of flexibility, all is well. With a Latinx protagonist and a diverse cast of classmates, this book offers plenty of mirrors for new kindergarten students. Carlos presents as male, and it is refreshing to see a boy character depicted with such emotional complexity and tenderness. The story is brief, but there is much to love here, with its reassuring message that will encourage both enthusiastic and worried first-time students.
A practically perfect first-experience story, especially for anxious hearts and gentle spirits.
— Kirkus Reviews, STARRED REVIEW
little bee books, 9781499809893, 32pp.
Publication Date: June 9, 2020
About the Author
Janet Lawler is an award-winning author with more than twenty published books, including If Kisses Were Colors, Snowzilla, and Mirabel's Missing Valentines. Her picture books have have been translated into Spanish, Japanese, Hebrew, French, and Korean. Learn more about Janet at JanetLawler.com.

Geraldine Rodriquez is an artist who loves buffalo wings, tacos, and iced tea. Geraldine has illustrated publishing projects across a range of formats, but Kindergarten Hat is her debut picture book. She lives in Mexico. Follow her @GeryRdz.