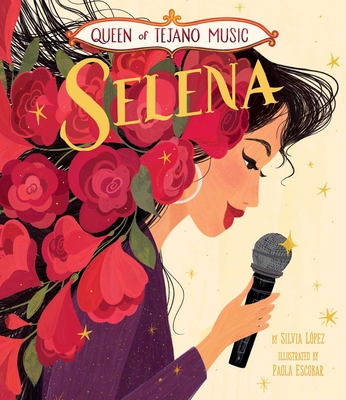 Queen of Tejano Music
Selena
Hardcover

* Individual store prices may vary.
Other Editions of This Title:
Hardcover (8/25/2020)
Description
"There's a lot of text in the book, but it's smartly framed within two-page spreads, and very little of it feels extraneous. ...A worthy picture-book primer on the Queen of Tejano music."-Kirkus Reviews

This is a moving and impassioned picture book about the iconic Queen of Tejano music, Selena Quintanilla, that will embolden young readers to find their passion and make the impossible, possible!

Selena Quintanilla's music career began at the age of nine when she started singing in her family's band. She went from using a hairbrush as a microphone to traveling from town to town to play gigs. But Selena faced a challenge: People said that she would never make it in Tejano music, which was dominated by male performers. Selena was determined to prove them wrong.

Born and raised in Texas, Selena didn't know how to speak Spanish, but with the help of her dad, she learned to sing it. With songs written and composed by her older brother and the fun dance steps Selena created, her band, Selena Y Los Dinos, rose to stardom! A true trailblazer, her success in Tejano music and her crossover into mainstream American music opened the door for other Latinx entertainers, and she became an inspiration for Latina girls everywhere.
Praise For Queen of Tejano Music: Selena…
"Beautifully done work keeping the Selena Legacy alive...."
— Edward James Olmos

Unbelievably, this is the first picture book treatment of the iconic singer, designer, and philanthropist who was murdered 25 years ago...The art is so striking that readers will want to linger on each page...A moving tribute.
— School Library Journal

Through a thorough narrative, López recounts the life of Selena Quintanilla, the Tex-Mex singer
who paved the way for many Latinx artists. From her humble beginnings, Selena had an obvious
gift for performing. As part of a family band, she traded living like a "normal" teenager for a life
filled with touring and gigging. She learned Spanish, excelled in a genre that was dominated by
men, opened her own fashion boutiques, and was about to break into the mainstream market
when she was murdered. The text doesn't dwell on the circumstances of her death, but back
matter goes into more age-appropriate detail. The joy that Selena brought to her audience is
reflected in Escobar's resplendent illustrations, which buzz with a sense of movement. Vivid reds
recall one of the singer's best-known songs, "Como la flor." Some remarks about the young
woman's "curvy shape" may be cringeworthy; nonetheless, this is the best option of its kind and
a must for all picture-book biography shelves. A lovely tribute to the Queen of Tejano music.
— Booklist

Nearly 25 years after her death, the musical origin and cultural impact of Mexican American performer Selena Quintanilla are celebrated. The story of Selena, as the singer and songwriter is still known, has been told before but not for so young an audience. López splits the difference between a fawning tribute and a straightforward recounting of accomplishments by working hard to paint the picture of the artist's childhood and what led to her musical achievements. Amid Escobar's exceptionally detailed illustrative work, it's made clear how both the Quintanilla family's immersion in music and Selena's enduring work ethic led to her band's success. There's a lot of text in the book, but it's smartly framed within two-page spreads, and very little of it feels extraneous. Fans new to Selena's work may be surprised to learn that she was not a native speaker when she began performing in Spanish and that early in her career, sexism within the Tejano tradition was an issue. The artwork captures clothing and home furnishings of the time, such as Selena's cassette tapes, her father's guayabera shirts, and the singer's iconic stage costumes. Not surprisingly, there's not much dwelling on the circumstances of the singer's murder other than an explainer page and a mention in a timeline in the backmatter, which also offers other cultural context.A worthy picture-book primer on the Queen of Tejano music. (Picture book/biography. 6-9)
— Kirkus Reviews

This engaging, narrative-heavy picture book biography of Mexican American superstar Selena Quintanilla (1971-1995) follows her journey from childhood to adulthood, illustrating her struggles and triumphs on her path to prominence. Through page-long subtitled sections ("A Family Band," "The Language Challenge," and more), López contextualizes Selena's life and career, supplementing the narrative with quotations that allow readers a glimpse of her personality (on making little profit after a television appearance: "?'If we got five or ten dollars,' Selena said, 'we could go to Whataburger!'?"). Escobar's elaborate illustrations prove an enriching complement, portraying key scenes, significant players, and iconic outfits. The narrative elides mention of Selena's death, choosing to end on a hopeful note, but back matter includes an illustrated timeline and further information on the subject's life and death. Ages 6-9. (Aug.)
— Publisher's Weekly
little bee books, 9781499811421, 48pp.
Publication Date: August 25, 2020
About the Author
Silvia López, a Cuban native raised in Miami, Florida, served as a children's librarian at schools and public libraries for over three decades. She holds degrees in English, Library Science, and Educational Technology, and is a National Board-Certified Teacher. Her picture book, Just Right Family: An Adoption Story, was released in March 2018. She had previously published children's biographies, as well as award-winning bilingual digital books. Her book, Handimals: Animals in Art and Nature, a collaboration with Italian artist Guido Daniele, was published in April 2019. Another picture book, Pacho, is scheduled for release in 2020.

Paola Escobar is a Colombian graphic designer and illustrator. She has worked for a variety of publishers, including Oxford University Press, Penguin Random House, Scholastic UK, Laurence King, HarperCollins, and Little, Brown Book Group; as well as a broad range of print and digital magazines. She currently works as a freelance illustrator and lives very happily in Bogota, Colombia, with her husband and dog, Flora.