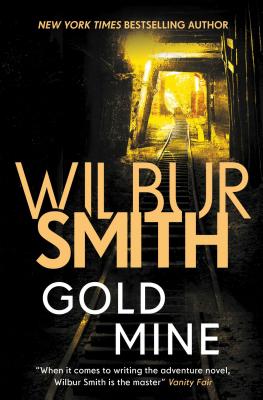 Gold Mine
Paperback

* Individual store prices may vary.
Other Editions of This Title:
MP3 CD (7/30/2019)
Compact Disc (6/2/2020)
Mass Market (10/3/2006)
Description
An action-packed thriller from global bestseller Wilbur Smith

"Underground Manager,"he said. There was a long silence and he could hear the man breathing on the other end. "Speak, man, what is it?" "The whole bloody thing has come down,"said the voice. It was husky, rough with fear and dust. "Where are you speaking from?"Rod asked. "They're still in there," said the voice. "They're screaming in there. Under the rock. They're screaming."' Nothing drives men to danger like gold... Rod Ironsides is the honest, expert manager of the successful Sonder Ditch gold mine and its hard-worked miners. But honesty and expertise count for little, when faced with desperate bosses and a crew who'll break every rule to get their own illegal share of the precious metal. Under the command of the obsessive, meticulous Dr Steyner, Rod is forced into greater and greater risks. For if the mine goes down and takes the lives of the men with it, someone stands to make millions -but Rod will be the one who pays
Zaffre, 9781499860160, 274pp.
Publication Date: June 5, 2018
About the Author
Wilbur Smith (Author)
Wilbur Smith was born in Central Africa in 1933. He became a full-time writer in 1964 following the success of When the Lion Feeds, and has since published over forty global bestsellers, including the Courtney Series, the Ballantyne Series, the Egyptian Series, the Hector Cross Series and many successful standalone novels, all meticulously researched on his numerous expeditions worldwide. A worldwide phenomenon, his readership built up over fifty-five years of writing, establishing him as one of the most successful and impressive brand authors in the world.

The establishment of the Wilbur & Niso Smith Foundation in 2015 cemented Wilbur's passion for empowering writers, promoting literacy and advancing adventure writing as a genre. The foundation's flagship programme is the Wilbur Smith Adventure Writing Prize.

Wilbur Smith died peacefully at home in 2021 with his wife, Niso, by his side, leaving behind him a rich treasure-trove of novels and stories that will delight readers for years to come. For all the latest information on Wilbur Smith's writing visit www.wilbursmithbooks.com or facebook.com/WilburSmith

Tom Harper (Author)
Tom Harper is the author of thirteen thrillers and historical adventures including The Orpheus Descent, Black River and Lost Temple. Research for his novels has taken him all over the world, from the high Arctic to the heart of the Amazon jungle. He lives with his family in York. For more information about Tom's books, visit www.tom-harper.co.uk.