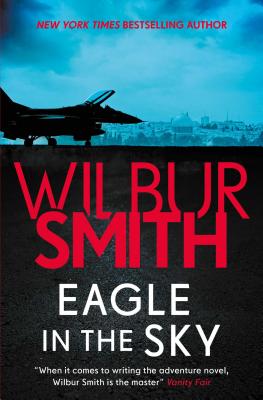 Eagle in the Sky
Paperback

* Individual store prices may vary.
Other Editions of This Title:
MP3 CD (6/4/2019)
Paperback (8/1/2006)
Description
An action-packed thriller from global bestseller Wilbur Smith

The Syrian plane disintegrated, evaporating in a gush of silvery smoke, rent through with bright white lightning, and the ejecting pilot's body was blown clear of the fuselage. For an instant it was outlined ahead of David's screen, cruciform in shape with arms and legs thrown wide, the helmet still on the head, and the clothing ballooning in the rush of air.' He chose this life. And it may cost him everything. From a young age it's clear that David Morgan is 'bird'-a natural pilot, most at home in the air. In the South African Air Force he receives plaudits beyond his years, and even his family begins to accept that David will do anything to stay away from the Morgan billion-dollar business, and to keep flying instead. Following his dream and in pursuit of Debra, a beautiful young Israeli writer, David soon joins the Israeli Defence Force and finds himself caught up in the country's struggles. But when he pays a terrible price for his choices, will he be able to become the man he always hoped -or will he choose to disappear into the skies?
Zaffre, 9781499860283, 388pp.
Publication Date: June 5, 2018
About the Author
Wilbur Smith (Author)
Wilbur Smith was born in Central Africa in 1933. He became a full-time writer in 1964 following the success of When the Lion Feeds, and has since published over forty global bestsellers, including the Courtney Series, the Ballantyne Series, the Egyptian Series, the Hector Cross Series and many successful standalone novels, all meticulously researched on his numerous expeditions worldwide. A worldwide phenomenon, his readership built up over fifty-five years of writing, establishing him as one of the most successful and impressive brand authors in the world.

The establishment of the Wilbur & Niso Smith Foundation in 2015 cemented Wilbur's passion for empowering writers, promoting literacy and advancing adventure writing as a genre. The foundation's flagship programme is the Wilbur Smith Adventure Writing Prize.

Wilbur Smith died peacefully at home in 2021 with his wife, Niso, by his side, leaving behind him a rich treasure-trove of novels and stories that will delight readers for years to come. For all the latest information on Wilbur Smith's writing visit www.wilbursmithbooks.com or facebook.com/WilburSmith

Tom Harper (Author)
Tom Harper is the author of thirteen thrillers and historical adventures including The Orpheus Descent, Black River and Lost Temple. Research for his novels has taken him all over the world, from the high Arctic to the heart of the Amazon jungle. He lives with his family in York. For more information about Tom's books, visit www.tom-harper.co.uk.