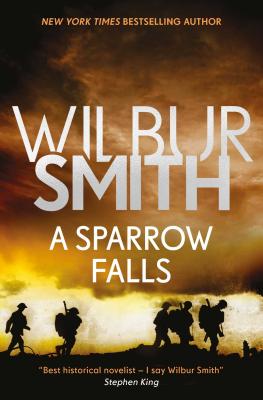 A Sparrow Falls (The Courtney Series
The When The Lion Feeds Trilogy #3)
Paperback

* Individual store prices may vary.
Other Editions of This Title:
Compact Disc (9/8/2020)
MP3 CD (3/5/2019)
Paperback (1/1/2007)
Paperback (1/2/2007)
Description
A Courtney series adventure - Book 3 in the When the Lion Feeds trilogy

"Mark picked the weapon off the rack and the shape and feel of it brought memories crowding back. He thrust them aside. He would need a rifle where he was going." A father builds. A son destroys. General Sean Courtney returns from the horrors of the Great War in France, his mind on his heirs and his legacy. He is watching three potential successors: his beautiful but spoiled daughter, Storm: his corrupt, disgraced son Dirk; and his new young assistant, Mark Anders, a fellow survivor of the trenches. Mark finds himself trapped between Sean's two children, shaped by an impossible love for Storm, and a victim of Dirk's ongoing hatred, greed and jealousy. With all Sean's experience of war and family, can he protect Mark -- and everything Sean has ever stood for?
Zaffre, 9781499860405, 641pp.
Publication Date: June 5, 2018
About the Author
Wilbur Smith (Author)
Wilbur Smith was born in Central Africa in 1933. He became a full-time writer in 1964 following the success of When the Lion Feeds, and has since published over forty global bestsellers, including the Courtney Series, the Ballantyne Series, the Egyptian Series, the Hector Cross Series and many successful standalone novels, all meticulously researched on his numerous expeditions worldwide. A worldwide phenomenon, his readership built up over fifty-five years of writing, establishing him as one of the most successful and impressive brand authors in the world.

The establishment of the Wilbur & Niso Smith Foundation in 2015 cemented Wilbur's passion for empowering writers, promoting literacy and advancing adventure writing as a genre. The foundation's flagship programme is the Wilbur Smith Adventure Writing Prize.

Wilbur Smith died peacefully at home in 2021 with his wife, Niso, by his side, leaving behind him a rich treasure-trove of novels and stories that will delight readers for years to come. For all the latest information on Wilbur Smith's writing visit www.wilbursmithbooks.com or facebook.com/WilburSmith

Tom Harper (Author)
Tom Harper is the author of thirteen thrillers and historical adventures including The Orpheus Descent, Black River and Lost Temple. Research for his novels has taken him all over the world, from the high Arctic to the heart of the Amazon jungle. He lives with his family in York. For more information about Tom's books, visit www.tom-harper.co.uk.