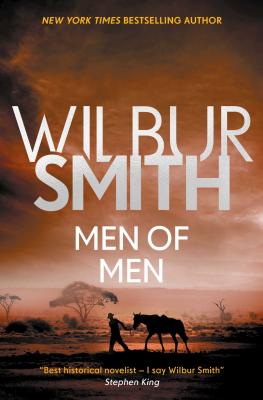 Men of Men (The Ballantyne Series #2)
Paperback

* Individual store prices may vary.
Other Editions of This Title:
MP3 CD (4/2/2019)
Compact Disc (9/1/2020)
Paperback (10/31/2006)
Description
The second book in the epic Ballantyne series

Zouga was left alone, as alone in spirit as he had ever been in any of his wanderings across the vast African continent. He had spent almost the last penny he owned on these few square feet of yellow earth at the bottom of this hot and dusty pit. He had no men to help him work it, no experience, no capital.' A tribal battle. An Empire's war. Zouga Ballantyne has in his blood a fanatic's need to find diamonds, one that will take him to Southern Africa's most punishing places. Losing his wife to one of the many sicknesses that haunt the diamond mine camp, Zouga and his sons must find another way through the country, helping to build the British Empire, and developing their own form of civilisation in the face of tribal opposition. But the Ballantyne family success comes at a price -the sacrifice of the local Matabele tribe, who have tried to live alongside the colonists, but are slowly losing everything. In the face of exploitation, violence and greed, who will triumph in the land of ruthless men?
Zaffre, 9781499860566, 721pp.
Publication Date: June 5, 2018
About the Author
Wilbur Smith (Author)
Wilbur Smith is a worldwide phenomenon. His readership has built up over fifty-five years of writing.
Born in Central Africa in 1933, W ilbur became a full-time w riter in 1964 follow ing the success of When the Lion Feeds, and has since published over forty global bestsellers, including the Courtney Series, the Ballantyne Series, the Egyptian Series, the Hector Cross Series and many successful standalone novels, all meticulously researched on his numerous expeditions worldwide.
The establishment of the W ilbur & Niso Smith Foundation in 2015 cemented W ilbur's passion for empowering writers, promoting literacy and advancing adventure writing as a genre. The foundation's flagship programme is the W ilbur Smith Adventure W riting Prize.

For all the latest information on W ilbur visit w w w .w ilbursmithbooks.com or facebook.com/WilburSmith

Mark Chadbourn (Author)
Mark Chadbourn is a Sunday Times bestselling author of historical fiction novels about the Anglo-Saxon warrior Hereward, published under his pseudonym James Wilde. His Age of Misrule books, under his own name, have been translated into many languages. As a screenw riter, he's written for the BBC and is currently developing series for Lionsgate and several of the streaming netw orks. He began his career as a journalist reporting from the world's hotspots.