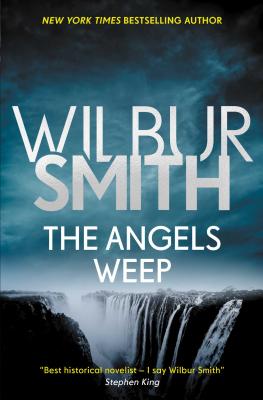 The Angels Weep (The Ballantyne Series #3)
Paperback

* Individual store prices may vary.
Other Editions of This Title:
Mass Market Paperbound (11/28/2006)
MP3 CD (4/2/2019)
Paperback (11/1/2006)
Description
The third book in the epic Ballantyne series

"The lion rose lightly into the air, and settled like a huge yellow bird on the horse's back, crushing Jan Cheroot beneath his massive, blood-streaked body. At that instant, horse and rider and lion seemed to disappear into the very earth, and there was only a swirling column of dust to mark where they had been." A new generation. An age-old struggle. Ralph Ballantyne is following in his father Zouga's footsteps, as a hunter, gold prospector and promoter of British colonialism in Africa. But the tribes that they -and men like them -have previously exploited or butchered in the name of civilisation are rising up, and will no longer submit quietly to the greed and mindless destruction of the trespassers. Over a hundred years later, Ralph's descendants are still in Africa, in the newly named Zimbabwe, and the battles have not yet ended. In fact, for Craig Mellow, the last Ballantyne, there is still a terrible price to pay for the actions of his ancestors...
Zaffre, 9781499860603, 672pp.
Publication Date: June 5, 2018
About the Author
Wilbur Smith (Author)
Wilbur Smith was born in Central Africa in 1933. He became a full-time writer in 1964 following the success of When the Lion Feeds, and has since published over forty global bestsellers, including the Courtney Series, the Ballantyne Series, the Egyptian Series, the Hector Cross Series and many successful standalone novels, all meticulously researched on his numerous expeditions worldwide. A worldwide phenomenon, his readership built up over fifty-five years of writing, establishing him as one of the most successful and impressive brand authors in the world.

The establishment of the Wilbur & Niso Smith Foundation in 2015 cemented Wilbur's passion for empowering writers, promoting literacy and advancing adventure writing as a genre. The foundation's flagship programme is the Wilbur Smith Adventure Writing Prize.

Wilbur Smith died peacefully at home in 2021 with his wife, Niso, by his side, leaving behind him a rich treasure-trove of novels and stories that will delight readers for years to come. For all the latest information on Wilbur Smith's writing visit www.wilbursmithbooks.com or facebook.com/WilburSmith

Tom Harper (Author)
Tom Harper is the author of thirteen thrillers and historical adventures including The Orpheus Descent, Black River and Lost Temple. Research for his novels has taken him all over the world, from the high Arctic to the heart of the Amazon jungle. He lives with his family in York. For more information about Tom's books, visit www.tom-harper.co.uk.