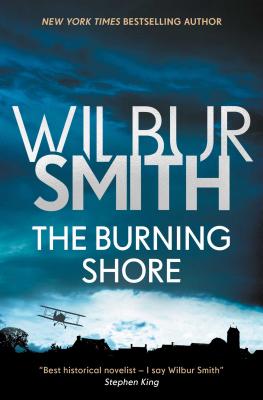 The Burning Shore (The Courtney Series
The Burning Shore Sequence #1)
Paperback

* Individual store prices may vary.
Other Editions of This Title:
Mass Market (2/6/2007)
MP3 CD (4/2/2019)
Description
A Courtney series adventure - Book 1 in The Burning Shore sequence

"The deck bucked under her feet and she was hurtled backwards on to the bunk again, and the blast of a massive explosion ripped through the ship. 'What is happening?' she screamed. Love in a time of war. Hope in a time of danger. One of the greatest fighter pilots of the Great War, Michael Courtney is saved by the French noblewoman Centaine de Thiry when he crashes near her home. When Michael is killed, Centaine is determined to live out the future they had dreamed of and sets out alone to travel across the ocean to join his family in South Africa. But no journey is ever simple, and a pregnant Centaine finds herself shipwrecked in shark-infested waters off Africa's notorious Skeleton Coast, a deadly swim away from even deadlier land: the sun-bleached desert that will see her defenceless and alone. When hope arrives, she has no way of knowing if she will be saved -- or left in greater danger than ever before...
Zaffre, 9781499860689, 644pp.
Publication Date: June 5, 2018
About the Author
Wilbur Smith (Author)
Wilbur Smith was born in Central Africa in 1933. He became a full-time writer in 1964 following the success of When the Lion Feeds, and has since published over forty global bestsellers, including the Courtney Series, the Ballantyne Series, the Egyptian Series, the Hector Cross Series and many successful standalone novels, all meticulously researched on his numerous expeditions worldwide. A worldwide phenomenon, his readership built up over fifty-five years of writing, establishing him as one of the most successful and impressive brand authors in the world.

The establishment of the Wilbur & Niso Smith Foundation in 2015 cemented Wilbur's passion for empowering writers, promoting literacy and advancing adventure writing as a genre. The foundation's flagship programme is the Wilbur Smith Adventure Writing Prize.

Wilbur Smith died peacefully at home in 2021 with his wife, Niso, by his side, leaving behind him a rich treasure-trove of novels and stories that will delight readers for years to come. For all the latest information on Wilbur Smith's writing visit www.wilbursmithbooks.com or facebook.com/WilburSmith

Tom Harper (Author)
Tom Harper is the author of thirteen thrillers and historical adventures including The Orpheus Descent, Black River and Lost Temple. Research for his novels has taken him all over the world, from the high Arctic to the heart of the Amazon jungle. He lives with his family in York. For more information about Tom's books, visit www.tom-harper.co.uk.